Super Comp World Champ- Ray Miller III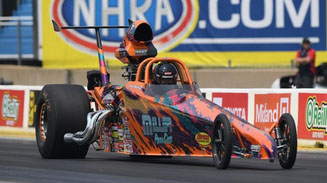 Know around the track as "Ray Ray," Ray Miller III is your 2019 Super Comp World Champion. Miller not being new to the winners circle, but this was his first World Championship in arguably the toughest class in NHRA. He has also claimed in his ten years of chasing points, 20+ Wins on the NHRA National and Divisional scene. This year was pretty much the only name your heard calming almost a perfect divisional score, scoring four wins on the divisional scene. Boasting a score of almost 700 points came, no wins or even runner ups on the National scene, a divisional heavy score seems to be a trend of this year for many winners. The skill he possesses as a driver is truly unparalleled, watching him make laps crossing the 1320 cone at 155mph to 185mph playing all the strategies available to him and the ones that best suits his opponents. The reason his is one of the best out there.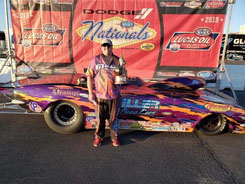 He also had an outstanding year in his Super Gas Roadster, capturing a double up at the Galot Divisional this year. In Vegas, displayed his skill of driving in the final round, slipping the nose of the roadster .004 in front of Division Sevens Evan Kowalski's .008 total to be .004 total. Making that his third win of the season in Super Gas, showing his skill on both coasts, totalling seven wins on the season, and a number four finish in Super Gas. His skill starts at the beginning of the track, most hits on the tree coming up low teen or double 0 most of the time. When he won the three divisionals in a row his worst light was a .027, the rest of the rounds he was teen or better. He also has the great decision making ability, that alot struggle to find. Whether it be to take it across first or to get behind, the tail lights on the roadster give you a great perspective of what his is capable of, and the numbers one and four on the scoops of the cars might give you an idea also. Congrats on the great season Ray.