The Double Double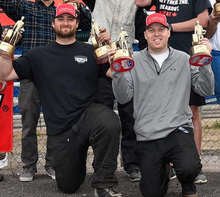 This past weekend there was recently a DOUBLE, DOUBLE up where two drivers took home four wallys. We know how rare they are, not quite sure if this has ever been done. The last double on the national event level was Ken Moses last year in Epping, he was only the 26th person to do it. The two drivers that share this accomplishment from last weekend's division seven race in Tucson, Arizona are Jeff Taylor and Ryan Mangus.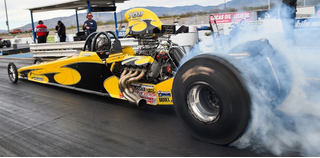 Jeff Taylor that starts the year off on the West Coast and then they make their way back to the East for the division one season. He ended his season last year very well, so success early should not surprise anyone. He captured a win last year in Top Dragster at the Cecil Divisional and a big $50,000 SFG. He was brutal on the tree last weekend in Top Dragster, six round with all light being better then .015. Also in Top Sportsman he was .008 or better in three out of the four rounds. You could say he is feeling comfortable in both of his rides, he could be a real tough competitor for some titles this year if he keeps it up. I assure you he plans on it.
Ryan Magnus is also not afraid of the winners circle, including doubling up. He's done this once before, taking home the wallys in Stock, and Super Comp at the first division seven race of the season. Last year he had a great year in Stock, going a good amount of rounds, had a win at the Sonoma divisional, but came up a little short to Justin Lamb finishing number two in the division. In Super Comp he was better than .016 four out of six rounds, he had a little in the bag the whole time only going 172mph, but dropped it about right on the number most rounds when it was close up top. In Stock it was a long seven round race, fishing up in an all heads up final, where he was able to edge out Larry Gilley by about seven hundredths.