Texas NHRA Fall Nationals Winners
The Texas NHRA Fall Nationals had full schedule of sportsman classes. With a total 10, which includes the alcohol classes, this 4 day race was mandatory. All rounds were run before Sunday expect for the finals of the 8 sportsman classes we cover. The final rounds on Sunday, made the TV coverage much easier to deal with, and along with the track personal everyone got to go home at reasonable time.
Factory Stock Showdown: Chris Holbrook vs Leah Pritchett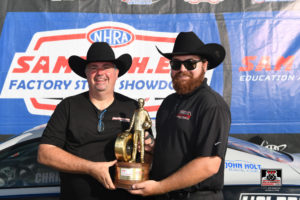 Pritchett, the number 2 qualifier had a slight performance advantage over Holbrook the number 3 qualifier in the final. Holbrook is off the line first with the better light and performance. Pritchett can not make up the difference even if she was perfect on the tree. Holbrook gets his first win this year at the last race of the season for FSS taking out last years National Champion.
Comp: Joey Tanksley vs Brian Browell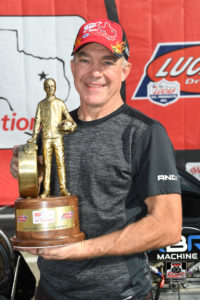 Both drivers qualified in the middle of the pack, but Browell got a hard CIC hit in the 2nd round. Tanksley was clean throughout the rounds and had the performance advantage going into the finals. Browell had a great light .013 to Tanksley's .096, but it was not match for the performance advantage of  Tanksley. Tanksley gets his 4th NHRA national event win.
Super Stock: Vic Penrod vs Aaron Stanfield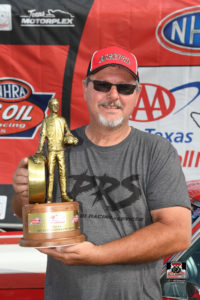 Stanfield has been on the tree throughout the race, Penrod has a good light .020, but Stanfield goes red by .014, given the win to Penrod. This is Penrod's 3rd NHRA National event win.
Stock: Brandon Bakies vs Dale Hulquist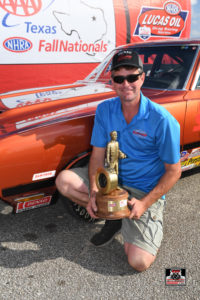 Both drivers are off their dial ins, both drivers have similar lights and both drivers are driving the stripe. Bakies does the better job by taking a .002 stripe and gets the win. Bakies gets his 2nd NHRA national event win.
Super Comp: Don Nichols vs Christopher Dodd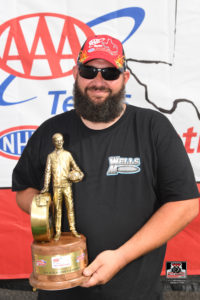 This race is decided buy less .002. Nichols is .007, Dodd is .006. Both drivers are so close, but Dodd is closer to his index giving him the slight edge for the win. Nichols gets his 2nd NHRA national event win.
Super Gas: Casey Plaizier vs Tim Nicholson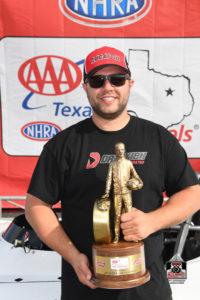 Both drivers have similar lights, but Nicholson does not throttle stop off the line. He is way out in front off Plaizier. Plaizier chases him down and takes the stripe by .007 and gets the win. This is Plaizier's 2nd NHRA national event win.
Super Street: John Leibham vs Jim Burrell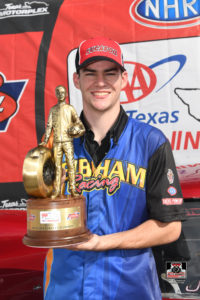 Burrell is way off his index, and Leibham is way under his index. Burrell goes red by an oh so close .001 and gives Leibham the easy win. This is Leibham's first NHRA national event win.
Top Sportsman: Kamron Wright vs Bengt Blomberg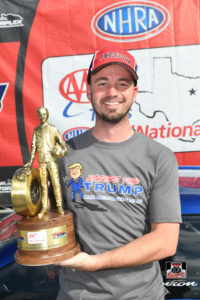 Wright is on time with a .010 light, Blomberg is even better with a .007 light. Wright is closer to his dial in and takes the win by a half of car length. Wright gets his first NHRA national event win in his first final.