Dodge NHRA Nationals Winners
The Dodge NHRA Nationals is second race of the year at the Strip and the second to last race on the NHRA tour. With only five sportsman classes competing, this race still has some national points contenders going for the championship. Temps were in the mid 40's for first round of Stock, but by mid day it was in the mid to upper 60's. A little warmer than we had for qualifying.  The finals on Sunday had temps is a more pleasant upper 70's and the sportsman were finished by late in the day.
Comp: Cody Lane vs Tony Mandell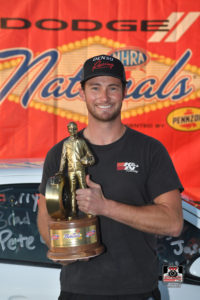 The number 1 and 2 qualifier fittingly face each other in the final. Mandell was hit a little harder on the CIC than Lane in round 1. Lane had the better light and performance to pick up his 6th NHRA national event win.
Super Stock: Matt Alvey vs Jason DeForrest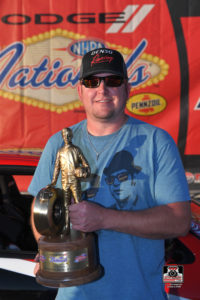 Both drivers had to battle 6 rounds to get to the final. DeForrest is .002 red and also breaks out by .009, but Alvey leaves first with a .006 red and hands the trophy to DeForrest. He gets his 4th NHRA national event win.
Stock: Chris Knudsen vs Craig Maddox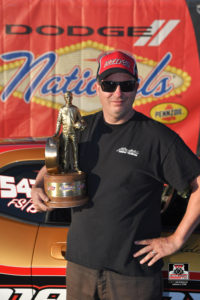 Another double red light for the Stock final. Knudsen leaves first with a.012 red, and the rest is history. Maddox is .021 red and runs it out going a 9.527 on a 9.54 dial. Maddox has been is three national event finals and brings homes his first NHRA national event win.
Super Comp: Dan Fletcher vs Vernon Rowland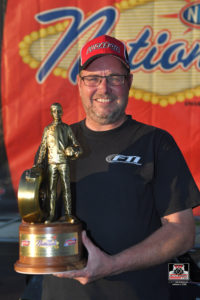 Fletcher is looking for is 105th win. Rowland knows he has his work cut out for him. Rowland has been killing the tree, averaging a .006 light throughout the race. Fletcher .012 on the tree, Rowland is .011 on the tree and dead with a 0. Fletcher can not get in on the .011 package and Rowland gets the hard fought win. This is Rowland's 3rd NHRA national event win.
Super Gas: Evan Kowalski vs Ray Miller III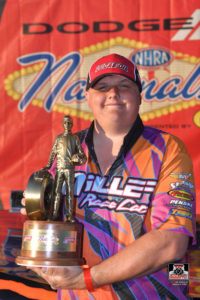 This has to be the tightest race of the week for the sportsman. Talk about flipping a coin for a win. Kowalski has a .008 package, great right? Well not so fast, Miller has a .004 package and takes the stripe by .004, about a foot. Hats off to both drivers. Miller takes home his 7th NHRA national event win.