Dodge Mile-High NHRA Nationals Winners
The Mile High NHRA Nationals is race that usually has good weather, but this year it was warm and the rain delay on Saturday put most the sportsman in on Sunday. The 3 day race had a small field with only 180 total sportsman in competition.
Super Stock: Justin Jenkins over Brenda Grubbs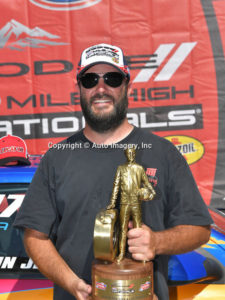 Jenkins has a slight advantage on the tree, .o11 to Grubbs .023. Grubbs takes to much stripe and breaks out. Jenkins pedals the stripe and gets his 4th NHRA national event win.
Stock: Gary Riley over Dwaine Davis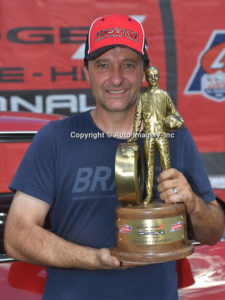 Davis is very late on the tree, .0179, Riley is on time with a .018 light. Riley cruises tom the finish line as Davis has no shot at catching him The is Riley's first final round at a national event, and he gets his first NHRA national event win.
Super Comp: Mitch Mustard over Dale Maher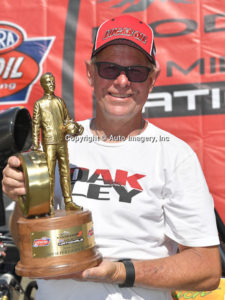 Maher is.028 on the tree and .028 over the index, but has no chance. Mustard is .004 on the tree and has room to pedal the stripe for the win. Mustard has been here twice, and gets his first NHRA national event win.
Super gas: Todd Nielson over Kevin Moore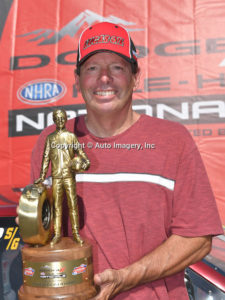 Nielson and Moore battle it out, but a .032 and .020 over the index will not be enough for Moore. Nielsen's .o18 and .011 over is all he needed to secure his 2nd NHRA national event win.
Top Sportsman: Greg Lair over Monte Weaver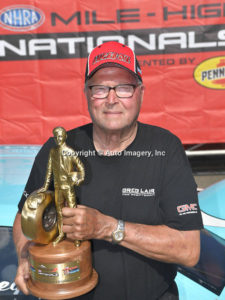 Lair and Weaver fight it out in this 4 round round race. Lair's .006 is what he needed to push Weaver out. Weaver was .025, and broke out by .005. Lair picks up his 4th NHRA national event win.
Top Dragster: Tony Stark over Adam Chioda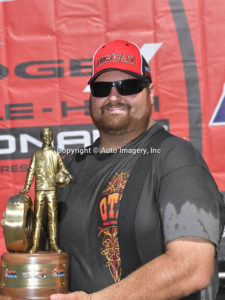 Both drivers are way off their dial in. Chioda is .009 on the tree to Stark's .016. Who ever gets to the stripe first will get this win. Chioda gives up the stripe to soon and Stark gets by him for his first final and first NHRA national event win.
Photos By – Auto Imagery