NHRA New England Nationals
The NHRA New England Nationals should have been called the hot and humid summernationals. The weather to say the least was very uncomfortable. A big storm hit late afternoon and canceled the sportsman action for Saturday. Being the 4th of July week, car counts were down a little, but the action was great and we even had a double up in Top Dragster and Super Comp.
Super Stock: Byron Worner over Richard Kay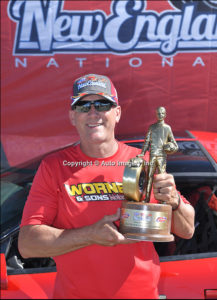 Byron Worner was driving great at this race averaging low .020 lights. Richard Kay is in his first national event final. It was not be for Kay as he broke at the starting line giving Worner the win. This is Worner's 7th NHRA national event win.
Stock: Dean Cook over Angelo Ditocco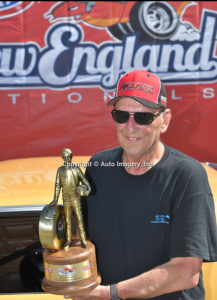 Long time division 1 racer Dean Cook battles it out with veteran race Angelo Ditocco. Ditocco is better on the tree, .049 to Cook's .079. Cook is much closer to his dial in as Ditocco can't run his number. Cook gets his 2nd NHRA national event win.
Super Comp: Kenneth Moses over Kyle Bigley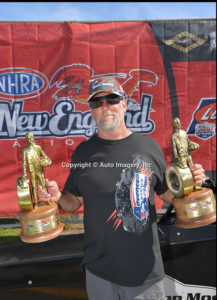 It was the battle of the breakouts. Moses is .015 on the the tree, Bigley is .020. Moses sticks it the stripe as Bigley pedals the stripe breaking out by .025 to Moses .006 breakout. Moses gets his 4th NHRA national event win. Moses could double up as he is in the final of Top Dragster.
Super Gas: Iggie Boicesco over John MacLean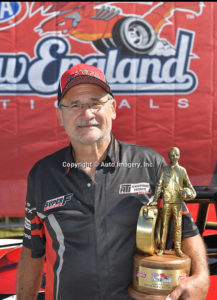 Boicesco and MacLean in a tough fight for the Super Gas win. Boicesco is dead the 9.90 index with a .022 light giving no chance to MacLean's .033 and .012 under the index. Boicesco gets his 9th NHRA national event win.
Super Street: Brian Sawyer over Darren Wood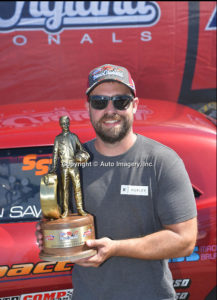 Brian Sawyer and Darren Wood are in then Super Street final. Wood is dead on with .002, Sawyer is better on the tree and holds on for the win. This is 2nd NHRA national event win.
Top Dragster:  Kenneth Moses over Nick Meloni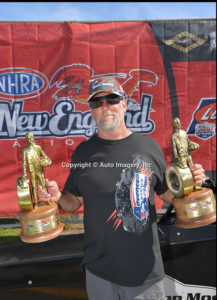 Moses is in his second final against Meloni. Moses is .002 making it tough on Meloni. Moses holds on for the double up as Meloni brakes out trying to hold off Moses. Moses now has 4 NHRA national event wins.
Top Sportsman: Dave Miller over Richard Lachapelle
Miller is going for his first national event win. Lachapelle is a little late and can't make it up at the stripe. Miller's .029 and .037 over is all he needed for the win. Miller has his 1st NHRA national event win.
Photos By – Auto Imagery