John Labbous Jr. 2017 Super Gas National Champion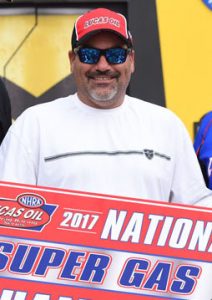 John Labbous Jr. has won pretty much every kind of race you can think of over his career, besides an NHRA World Championship. Between big money bracket races, national events, top bulb, pro tree, he can do it all and can now check this accomplishment off his bucket list. Labbous put on a huge score early in the season when he drove Anthony Bertozzi's Super Gas Corvette to 4 wins in 5 finals by June, but he had to wait until the second to last day of the season to clinch the championship.
He would start the season out pretty much as early as you can get in Florida for 3 events in a 4 week span. Orlando divisional was first, where he would get to 4th round before bowing out and collect 62 quick points. 2 weeks later Gainesville divisional and national would be back to back and Labbous would duplicate his performances, getting to 3rd round only and adding another 100 points total. After what I would call a slow start for Johnny Labbous, events would start to move north and the hot streak would start. The next 3 races would be his 1st, 2nd and 3rd wins of the season, picking up consecutive divisional wins at Cecil, GA and Raleigh, NC (Galot), before heading over to Charlotte, NC for the 4-wide's where he would earn yet another 105 and bring his score up to 467. Not only was Charlotte his first national event win of the year and 3rd win in a row, but he was also the champion in Super Comp, making him only the 22nd driver to ever double up at a national event.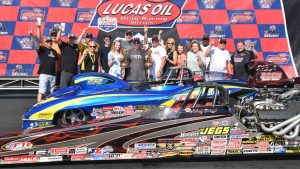 After a career few weeks of racing, Labbous would take almost a month off of the NHRA tour and not race again until Atlanta, GA divisional the last weekend of May. Unfortunately, his hot streak had a brief hiccup and he was dropped in the 3rd round getting him only 52 more points. But as I said that would only be a hiccup in his program and Labbous was back on track 2 weeks later picking up the win at Epping, NH for his 2nd Super Gas national event win of the season. The next event on the NHRA tour would be in Englishtown, NJ and once again Johnny Labbous would find himself in the final round, but would come up less than a thou short of the win and have to settle for a runner up finish.
Being less than half way through the season and Labbous already having a huge score of 648 put up, everyone was thinking the Championship was a wrap. But he would only win after rival Chris Cannon lost in the 2nd round at the Auto Club NHRA Finals in Pomona, coming up just 3 points short of the top spot. Labbous' 2nd half of the season was nothing compared to the 1st half, getting passed 2nd round only twice over the next 9 events, so realistically the championship was won and over with after the Englishtown national event. Labbous not only had a great year in Super Gas but in Super Comp as well, finishing the season as the #2 driver. Overall we can clearly say 2017 was a year he is never going to forget and when preparing for the 2018 season I wonder if he is going to come out and try to defend the #1 spot in Super Gas? Or if he is going to try and take the #1 spot in Super Comp? or maybe both…