US Nationals – Indy Winners and Losers
65th annual U.S. Nationals had its winners of course, but the losers were not what you would think. The losers were the decisions that where made at this prestigious race. Parking was an absolute nightmare, delaying the start time 6 hours. They were still parking the last few rigs as the Stockers were in the lanes. They did bring all the Stockers in before qualifying started, a good move for sure. All the sportsman racers lost 1 qualifying shot because delay.
To make things worse the rains Friday and Saturday canceled Stock and Super Stocks first round until Sunday. With only 1 round on Sunday for both classes, Mondays finals would be a busy day to say the least. As the final day of racing got underway it was almost like old times when Stock and Super Stock would most of its rounds on the final day. Unfortunately the schedule was full the last final did not run until 10:30pm.
Not only did the racer have to endure delay after delay, the The starting line crew had to work 16 hour days, and you could tell they were pushed to their limits, along with the rest of the NHRA workers.
So with all that said, its still Indy and the racers will tell you its the race to win!
Factory Stock Showdown: Bill Skillman over Arthur Kohn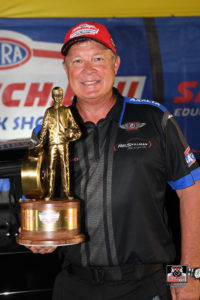 Skillman qualified 20 at of 29, Kohn was number 12 and looked to have the performance advantage. Kohn is out first with a .041 light to Skillman's .062. Skillman's Cobra Jet leaves hard with a power wheelstand to the 300 foot mark. He takes the win with an impressive 7.888 to Kohn's 7.918. Skillman gets his second win of the year and moves to number two in the points behind Drew Skillman the points leader.
Comp: Frank Aragona over David Billingsley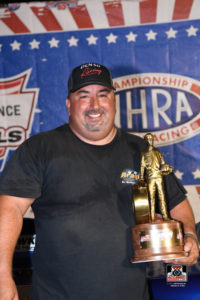 Aragona had to take some index to get to the finals, but to win Indy, you do what you have to. Billingsley was clean until the semi's but it was not enough as Aragona had the light and the performance to pick up his 12th NHRA national event win.
Super Stock: Dave Tyler Cassil over Dupps Jr.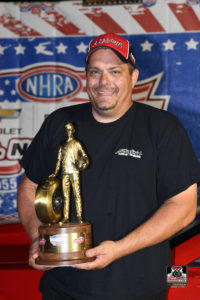 Cassil and Dupps are both on breakout runs. neither is on time. Cassil is .085 on the tree, Dupps is .105. Cassil breaks out by .004, but Dupps breaks out by.008 trying to take the stripe. Cassil gets his first NHRA national event win and is a big one.
Stock: Austin Williams over Matt Antrobius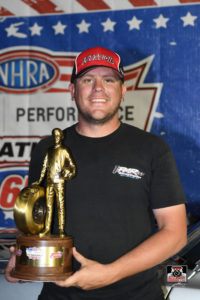 The battle of the H/SA cars. This is a heads up final Williams also had a heads up in the semi's. He was ready and tuned up. Antrobius was thought to have the performance advantage. Unfortunately he was .111 on the tree while Williams was perfect, .000. The slight a performance advantage by Antrobius could not overcome the great perfect by Williams. Williams takes home his 14th NHRA national event win.
Super Comp: Lynn Ellison over Rock Haas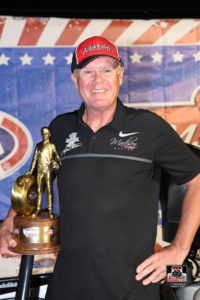 Its late and the Super Comp finalist have battle through 8 round of competition over 5 days, but ask any racer and they will tell you its worth it at Indy.  Ellison is .008 on the tree to Haas's .035, both driver are 2 over, but Ellison .008 gave him the room to take the win. Ellison now has 9 NHRA national event win.
Super Gas: Nathan Vrooman over Steve Hoyt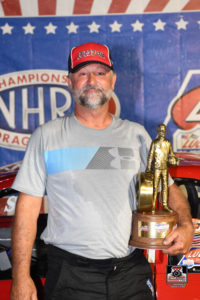 Another grueling 8 round race. and pretty much the same results. Vrooman is .010 and Hoyt is .041 on the tree. Both drivers are over their index, but Vrooman's .010 seals the deal and takes the win. This is Vrooman's 3rd NHRA nationals event win.
Top Dragster: Rusty Baxter over Peter Biondo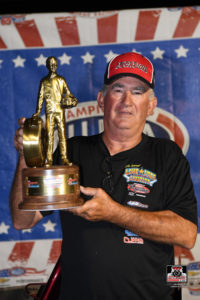 Baxter has been driving well, but Biondo has been on a tear, averaging a .005 light until the finals. Both drivers are on breakout runs and have lights about the same.015 for Baxter and .014 for Biondo. Baxter is flat out and breaks out the least and gets the tough win. This is Baxter's first NHRA national event win.
Top Sportsman: Larry Demers over Belva Brinegar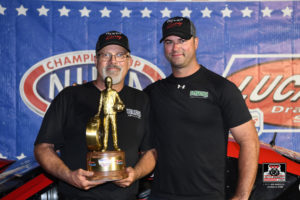 Another tough battle, Demers is .019 and Brinegar is .021. Demers is dead on with .002 and the math is just not there for Brinegar to get in on, over by .169. Demers wins his 3rd NHRA national event.