Lucas Oil NHRA Nationals Winners
Comp Eliminator: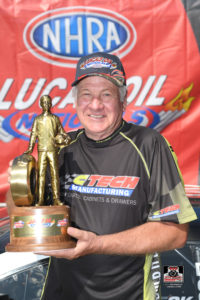 Jim Greenheck earned his first Wally against Shaun Vincent in the Comp final. Greenheck had the starting line advantage (his .007 against Vincent's .049), allowing him to take 9 feet at the stripe and run .587 under his 8.13 index.
Super Stock: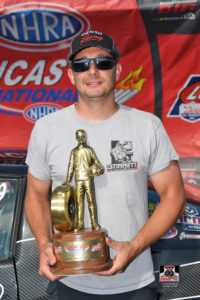 Brian Johnson won his first national event Wally against Jason DeForrest in the Super Stock final. Although DeForrest was #2 qualifier, he was way too early on the tree, thus, turning the win over to Johnson.
Stock: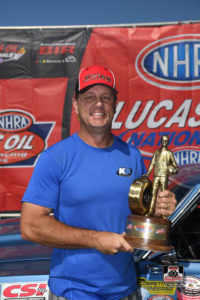 Chris Knudsen took home his first national event title against Brett Speer. Knudsen was deadly on the tree with a .002 light against Speer's .049. Knudsen's light allowed him to catch Speer early on and run .018 over his 10.59 dial.
Super Comp: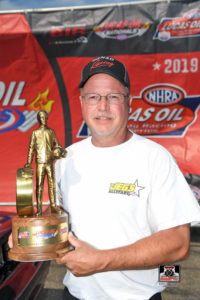 Gary Stinnett took out Tyler Bohannon in the Super Comp final. Both drivers had competitive lights (.007 vs .012, respectively). However, Bohannon was 6-thou under the 8.90 index, in turn, earning Stinnett his 15th win in Super Comp.
Super Gas: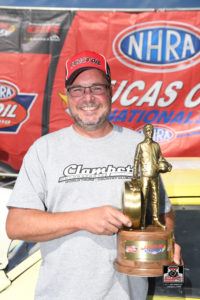 Veron Rowland took home his first Super Gas Wally against Bo Butner in the final. Although the drivers had seemingly identical lights, Butner took slightly too much stripe and broke out 5-thou more than Rowland.
Top Sportsman: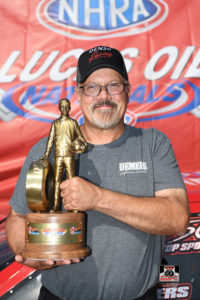 Larry Demers earned his second Wally in a holeshot win against Curt Fredrich. Demer's .009 light (against Fredrich's .022) gave him enough wiggle room at top end to take about 7 feet.
Top Dragster: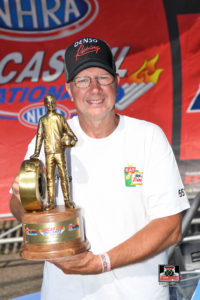 Henry Weibusch took out Luke Bogacki in the Top Dragster final to earn his second Top Dragster Wally. While Bogacki had a slight starting line advantage (his .006 vs Weibusch's .014), Weibusch was closer to his 7.15 dial. Weibusch took the stripe by a tight 7 inches.