Englishtown Raceway Park – Mixed Emotions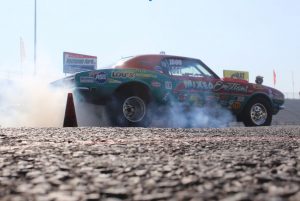 "Ohohohohoho Raceway Park," the jingle that has been ringing announcing drag racing events for many years, has now come to an end. Filled with many "mixed emotions" This is truly an end of an era, in the drag racing world and the tri-state area of Old Bridge Township Raceway Park. Why was this track so special?
It was a place for innovation. There have been many unfortunate events in NHRA competition that have happened at Old Bridge Township Raceway Park, also known as e-town. In the 2008 Summernationals Scott Kalitta lost his life racing his Top Fuel Funny car, with his death we have learned a lot about safety runoffs and addressing parachute failure and brake effectiveness. A year later e-town had one the the most innovative and safe runoffs, and created a standard for other tracks on the tour. They also made every event have a longer shutdown for the fuel cars, running 1000ft instead of the full 1320 ft. For thousands of kids, now world wide, would not be racing Jr. Dragsters if it was not for e-town and Vince Napp. Napp showed his Jr. Dragster to NHRA officials in early 1992. The Jr. Dragster became a catalyst for the NHRA to start a whole new league: the Jr. Drag Racing League (JDRL). NHRA unveiled the Jr. Dragsters July 9, 1992, during the 23rd annual Mopar Parts Nationals at Napp's Old Bridge Township Raceway Park in Englishtown, N.J. The capacity crowd witnessed the first Jr. Dragster exhibition race by Jill Caliendo and Napp's son, David. The snowball effect of kids seeing these cars and wanting to go race, now thousands of kids are racing Jrs. We could go on and on about how many different events changed for the  better of our sport at this historic place.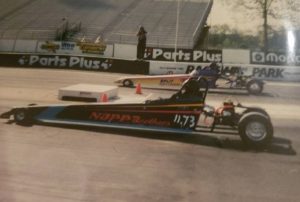 It was a second home for a crazy amount of people. For me, was the first track I ever went to, first place I was in the winners circle, and the place I was always excited to go to. Living twenty minutes from there, it was my second home, spending usually about two days a week there. The amount of friends and memories I made there is crazy, without this place you feel a little empty inside. More than a few people I know have met their wives there, proposed there, or even grew up there like myself. As we all know rumors, have been posted all over the internet, but besides the rumors, everyone was posting their special memories about this track. Being from division one more than half the posts on Facebook, younger racer or older racers this was the place they started racing. Some even being third generation racers, getting their start here, like the DePascale's or the Antonette's. What also stood out to me is how etown makes you feel as a racer. Rolling around that wall seeing the strip, puts you in to a certain type of feeling like no other track. It was so cool to read and reminisce with others to see why this track was so special to them.
I was listening to NJ 101.5 and they kept stating that drag racing around here was "dead" and that you don't see people running their cars on a Wednesday night. I've been going to pretty much every single Wednesday night for many years. I could tell you this, it is nowhere near dead, certain nights you could find almost 200+ cars racing. A few Friday's they also had racing, and every single Friday night they sold out of tech cards, thats 400 cars racing, while the line to get into the place was backed up on Pension Road till 10:00pm to get in. This was the hub for racing all around the tri-state, for NJ and NY gearheads. With the closure of e-town's drag racing, it's no question the residents will have a new problem on their hands then just noise. It's simple, no track, there is no question the younger group will go to the streets. Also on 101.5 you heard a few division one racers call in, you could hear the pure sadness in their voices. Something if you were not a racer, you simply cannot understand or feel.
I understand that Raceway Park is a business, and the decision that they made could save them from many headaches about complaining neighbors, and to the real part make they more money for doing less work. I appreciate all that they have done to keep racing going as long as they did. I do wish they would not have done it in such a manner, ending it so abruptly. I wish they just gave all the racers, fans, and loyal employees a commemorative thank you for supporting them all these years. By giving us just one more go at it, and racing this year, then discontinuing racing in 2019. I'm honestly still in shock, like many I just wish it could have kept going for many more years. I would also like to see what they end up doing with the track especially the runoff. If they plan of getting rid of that area give it to one of the other tracks in NJ to make their program that much safer, I'm sure they would take the equipment with open hands. With that being said, still can believe its gone, but very thankful for all the memories and special people I have met. I would greatly invite everyone to comment and tell us your opinion about this situation or the special memories you have had here.