Northrop Completing "The Hat Trick" At 48th Summernationals
The 48th S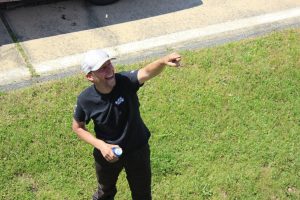 ummernationals was a very action packed race, on Thursday feeling like the fall nationals, but quickly turning into the blistering heat of the Summernationals we all know. For one of the best sportsman racers, Dan Northrop had another killer weekend at the Summernationals in Super Gas.
At the start of the 48th Summernationals Northrop had something knocking on the door of his '75 Chevy Vega. This was to complete the "hat trick". The two previous years of the Summernationals Northrop has taken the wally home in Super Gas. Early in the day on Saturday, most sportsman eliminations were complete. Northrop knowing that he is going to get his shot at the "hat trick", having the bye in the semi final round. On Sunday the final round was set, Northrop had to battle the very tough John Labbous Jr. Labbous being the current leader of National points in Super Comp and Super Gas. He also already has three National event wins in Super Gas this year. This was also a rematch of last years final in Super Gas.
The final round, Labbous had the advantage off the tree, .021 to Northrop's .029. With only a few thousandths advantage to Labbous it was going to be a race. With many whomps from each competitor Northrop made up the difference with his 9.921 to Labbous 9.927 to light his side of the scoreboard up. Northrop's MOV of .0009, which is about three inches. In the past three years Northrop defeating Labbous deep into eliminations. Three, that's the magic number and Northrop completed the impossible.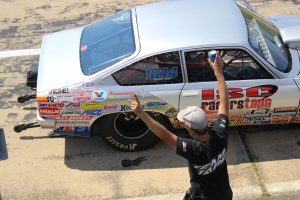 Family is such an important part of drag racing and the Northrop family was watching very closely at the same vantage point of mine. All the way up at the top end, overlooking the finish line. It was awesome to see how happy and supportive his family was when he took the win. Danny stopping right at the tower to have a special moment with his family before heading to the "Parade of Champions". When he stopped a family member said, "You did it, a hat trick baby!" The main reason you see "hat trick" in this article. Followed by a family member throwing him a congratulatory beer. This is what makes sportsman drag racing so amazing, a win that really meaning something to the racer. Ecstatic I was able to capture a moment that they will remember forever. Hats off to you Dan and your historical win, congratulations! Enjoy a few pictures of this moment.