Auto Club NHRA Finals Winners
The Auto Club NHRA Finals, the last race of the season with very little impact on most classes for the final points race to the top for the sportsman. Although mathematically there were some champions yet to be decided, but they were long shots. Weather wise, what can we say, its California and its usually very nice this time of year. Temps in the low 60's in the morning to the low 80's by mid day. Congrats to all the Sportsman Champions, another year is in the books, next season can not come soon enough.
Comp: Doug Lambeck vs David Rampy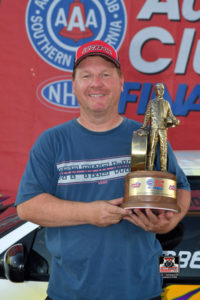 Lambeck qualified in the 5th slot, Rampy in the 4th slot. Rampy got cic'd twice before the finals. Lambeck was clean going into the finals and had the performance advantage. Rampy was on time with a .018 light but could not catch Lambeck better performance. Lambeck gets the win and his first Wally of the year at the last race of the season.
Super Stock: Jeff Dona vs Dan Fletcher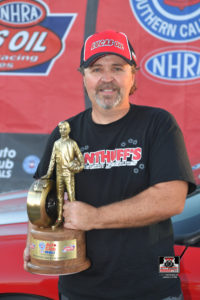 Fletcher has been driving well, so Has Dona. Dan is looking for his first win of the year. It looks like he might get it, he is .001 on the tree, Dona is .020. Both drivers are working the stripe, Fletcher takes to much stripe, Dona lets him go, both drivers breakout, but Dona breaks out less and gets his 2nd NHRA national event win.
Stock: Jeff Taylor vs Kyle Rizzoli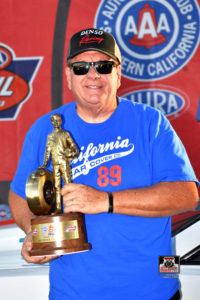 Taylor takes on Rizzoli in this final, two tough racers who have been here before. Taylor is good on the tree with a .035. Its all over as Rizzoli goes uncharacteristically red -.024. Taylor gets his 48th NHRA national event win.
Super Comp: Allison McKaone vs Ryan McClanahan
McClanahan is .013 on the tree, McKaone is .014 on the tree. McKaone wants the stripe and McClanahan gives it to her. McKaone breaks out by .003 and McClanahan gets his 9th NHRA national event win.
Super Gas: Steve Williams vs Steve Parsons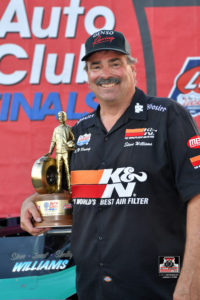 Both driver are on breakout runs, neither of them look as they will drive the strip, they are flat out. Parsons gets the strip but takes to much of it and breaks out by .048. Williams follows his through but breaks out be less and gets the win.