Atlanta Southern Nationals Recap
A short drive from Charlotte, NC the prior week brought everyone to Atlanta, GA for another 3-day race with a back to back large category count event for the NHRA as they swapped out the Factory Stock Showdown cars for Super Street cars. Quotas were set at 50 cars across the board and filled up rather quickly besides the 36 quota for TS & TD, as these classes for some reason are always light in cars at the Southern Nationals. With the beautiful temperatures forecasted, each class unlike the week before was granted their 2-3 time trials with Stock getting class eliminations. With the exception of 1 very very unfortunate event taking place in TS, the weekend went along as smooth as the NHRA planned, which will now give them on the national side a 2 week break until we pick back up in Topeka, KS.
Comp: Van Puckett over Brian Browell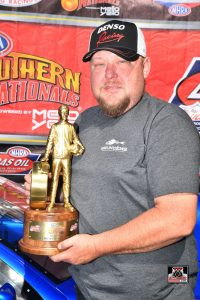 Racing out of the #5 qualifying spot at -.605 under his index, Puckett was able to overcome a .09 CIC in eliminations as Browell red lighted his chances away. Browell was the #7 qualifier at -.589 and was giving chase in the final with a 7.84 index, but unfortunately left too soon with a -.008 red light. Puckett left first with an 8.74 index and a great .021 reaction time, then was able to shut it off early with the win light in his lane.
Super Stock: Kevin Helms over Byron Worner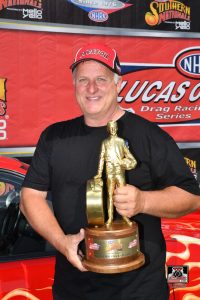 Helms gets his 28th wally in his 44th final round as another final was handled on the starting line. Worner was away 1st with a 9.83 dial and let go of the button 7 thou too soon, as Helms was giving up just about a second with a 8.87 dial and leaves 22 thou from perfect. Worner backs off the gas to run way over his dial as Helms makes a full pass and goes 8.869 to break it out by -.001 for the win.
Stock: Jeff Strickland over Robbie Shaw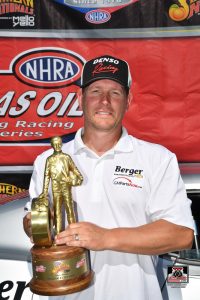 With a great .005 total package, Strickland was able to collect his 17th national event win. Another final was decided by a red light when Shaw left 1st chasing his 10.14 dial in and just missed the tree with a -.005 light. Strickland patiently waited and smacked the tree with a .005 green light and legs it out to a dead on 0 lap, running 9.280 on his 9.28 dial, sort of wasting a "5" pack as he was already the winner before he even left the starting line.
Super Comp: Gene Quinn over Lauren Freer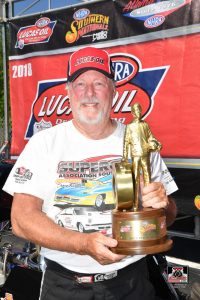 A first time winner this weekend, Quinn was able to come out on top of an all D2 final. Quinn was actually out of the gate 2nd with a .026 light to Freer's .020, but was able to get to the stripe 1st by running dead on to the 8.90 index at 8.907. Freer ran just off the mark at 8.926 and had 13 thou to work with, but ended up 13 thou behind.
Super Gas: Tommy Turner over Carl Watts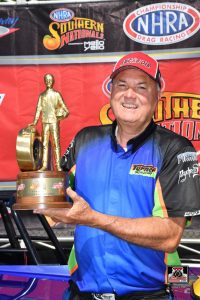 Turner ends his weekend with a .027 total package which resulted in his 2nd national event win. Coming off his semi bye run, Turner killed the tree with a .005 light to the .020 of Watts, and he was able to run on the positive side of the 9.90 index at 9.922. Watts ran 9.867 trying to run Turner down, but took too much finish line and put the beacon on in the other lane.
Super Street: Keith Mayers over Jesse McKnight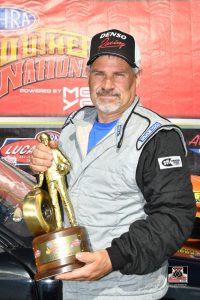 Mayers travels outside his division for his 2nd wally in his 4th final round appearance. With his best reaction time of the weekend (.017), Mayers was able to have over a 4 hun advantage as McKnight missed the tree badly with a .060 light. Being late and under the dial are never a good combination and showed when McKnight ran 10.884 on the 10.90 index, while Mayers was actually able to cross the stripe 1st by .001 and run over the index at 10.926.
Top Sportsman: Bob Mandell Jr. over Vince Hoda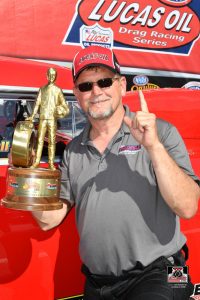 Mandell uses a .007 light to propel him to his 3rd national event wally. Hoda was away first with a .039 reaction time and ran just over the predicted 6.76 dial at 6.779, Mandell used that .007 light to stay ahead of Hoda before the stripe and get the win running 6.856 on the 6.84 dial.
Top Dragster: Les Feist over Larry Roberts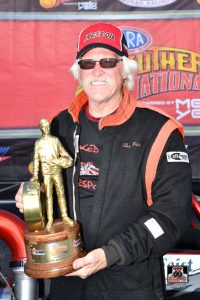 Although Feist won his division in 2017, he has never won a national event, until now. In pretty much a heads up final, Feist was dialed 6.08 and left with a .035 tree. Roberts was R/U last weekend in Charlotte left second with a 6.16 dial and had life with a .019 light, but missed the dial running 6.202.
Photos By – Auto Imagery