US 90 Dragway joins NHRA Member Track network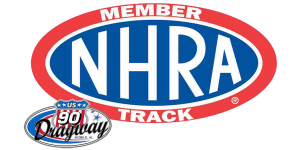 US Dragway, located in Irvington, Ala., has joined Division 2, the NHRA Southeast Division, as a NHRA member track and is under new ownership.
US 90 Dragway was opened as Mobile International Dragway in 1985. The track was built near the half-mile paved oval called Mobile International Speedway. Through the years the name was shortened to Mobile Dragway. Mobile Dragway has been a staple in the Alabama racing community and this will start a new chapter in the storied history of the track.
"We are very excited on becoming an NHRA member track because of the history behind the NHRA, and what the NHRA means among the families that race and watch on a daily basis," said Kody Lyons, track operator. "We are looking forward to providing an enjoyable family atmosphere at our track, with the hope of growing every genre of racing in the years to come."
"Under the new ownership of Charlie Lyons, a seasoned race promoter, the re-branded US 90 Dragway has been refreshed with numerous upgrades making it an even better place for the NHRA sportsman to race," said Rich Schaefer, director of NHRA Division 2.
NHRA-sanctioned tracks are eligible to offer racers a variety of NHRA racing opportunities, including the NHRA Summit Racing Series, the NHRA Summit Racing Jr. Drag Racing League, NHRA Jr. Street and the NHRA Drags: Street Legal Style presented by AAA. Additionally, the tracks have the opportunity to host NHRA's specialty events including the NHRA All Access Challenge, NHRA Summit King of the Track, and NHRA Summit Racing Jr. Drag Racing League Challenge, where racers compete for the coveted Wally trophy.
NHRA Division 2 facilities host NHRA-sanctioned competitions throughout the year along with countless other events for the heartiest of drag racing competitors and fans. Racers in Alabama, Florida, Georgia, North Carolina, Puerto Rico, and Tennessee make up one of the toughest divisions. For more information, including schedules, point standings, and more, go to the Division 2 website, NHRADiv2.com.