Barton's memorable Indy is highlighted by Factory Stock title
Barton's memorable Indy is highlighted by Factory Stock title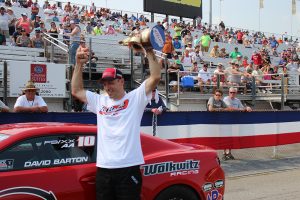 David Barton was justifiably proud when his old car, powered by one of his engines, won the Mopar Hemi Challenge at Indy for the second-straight year. He was more than thrilled to celebrated alongside two-time winner Jimmy Daniels, 21, and his father Jim Sr. in the Indy winner's circle.
For Barton, the celebration was brief since his mission at Indy was not complete. Specifically, he was both mentally and physically preparing for the upcoming rounds of the School of Automotive Machinists and Technology Factory Stock Showdown. It is not an exaggeration to suggest that the 2017 Indy Factory Stock event was the most important race of Barton's career and he drove like it.
Returning to Indy a year after a painful final round loss to Chris Holbrook's Ford, Barton rolled in with an all-new supercharged COPO Camaro. He quickly went to work and battered the 22-car field with a string of 8.1 and 8.2-second runs. Driving a car owned by veteran Hemi racer Gary Wolkwitz, Barton capped off the week-long battle with a thrilling 8.181, 164.53 to 8.214, 165. against Steven Bell in the all-COPO final.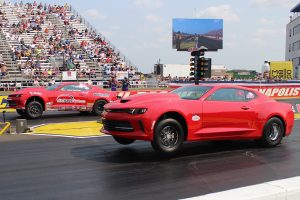 "This is the greatest race on earth and I'm the luckiest guy in the world," said Barton, who builds racing engines along with his father, Ray. "It doesn't get any better than this. For once, Indy treated us well. We usually get kicked here one way or another. This time we had zero carnage. We came in here well-prepared. It was actually kind of scary because we were ready a week ahead of time. That never happens. We even had extra motors under bench.
Part of Barton's preparation involved a trip to Summit Motorsports Park in Norwalk a week earlier for the NMCA Muscle Car event. At that race, Barton not only got a chance to test, but he also worked to get himself into a relaxed frame of mind ahead of "the Big Go", as Indy is often called.
"That race in Norwalk was good for me because the car ran well and I was able to get rid of the jitters," Barton said. We also worked on getting our sixty-foot times down. I've been chasing that for two years. We've always had enough power that I could play it safe but we can't do that anymore. We have to lean on our equipment. We got the car figured out and it left well all week at Indy."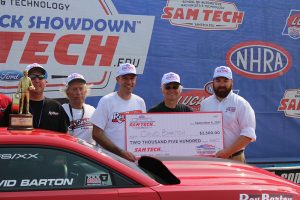 The 2017 edition of the SAM Tech Factory Stock Showdown at Indy was easily the best event in the history of the class. For the first time, a 16-car field of factory race cars from Ford, Dodge, and Chevy battled for Stock supremacy. A total of 22 drivers attempted to qualify for the field including a pair of well-known Pros; two-time Pro Stock champ Erica Enders, in her Omaha Track COPO, and Top Fuel driver Leah Pritchett, in a factory-backed Drag Pak Challenger. Both of them qualified for the quick field.
To no one's surprise, Barton was on top after qualifying with an 8.109, 165.31 pass. Bell was close behind with an 8.126, 166.68 and the bump was a competitive 8.491 by John Calvert's Cobra Jet Mustang.
Barton was solid throughout eliminations but he had to rely on a bit of luck to survive his opening round battle against Carl Tasca's 170-mph Cobra Jet. Both racers spun the tires off the starting line but Barton was able to recover with an 8.582, 163.37 to advance. Barton later drove to an 8.262, 164.03 in the quarterfinals to beat Daniel Condon's COPO. In the semi's, Barton stopped Kevin Skinner's Ford, 8.199, 164.85 to 8.331, 162.52.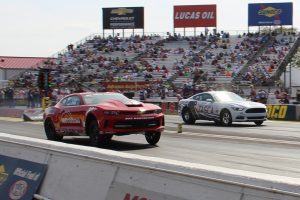 "For the most part my car was great, but I did spin the tires in one session," Barton said. "And, in that race against Tasca, it backfired through the intake. When that happens, the computer gets confused and it throws a bunch of extra fuel in there and the boost spikes. It wasn't a good run, but thankfully he spun the tires worse than I did. That's just the nature of this class. There is always one round that could have gone either way. It's never a breeze."
Following his latest win, Barton is in a prime position to capture the season-long points battle for the SAM Tech Factory Stock championship. Coming into Indy, Barton was tied with Chuck Watson after each driver won one of the first three events. When Watson was upset in the opening round, it provided a perfect opportunity for Barton to rack up points and he didn't let it go to waste.
"I don't think I have it locked up yet but we're ready to go to St. Louis and do whatever we have to," said Barton. "Hopefully, we can just go there and do our normal deal. If I can just win a round or two, we should be good as far as the championship goes."
As much as anyone else, Barton understands that with the SAM Tech Factory Stock Showdown, he is in on the ground floor of what could easily be drag racing's "next big thing". Manufacturer support for the class is already there, and thanks to television coverage, the class is also gaining attention from the mainstream media. There is a big debate over whether the class could or should ever replace Pro Stock, but after Indy, no one can deny that it's trending in the right direction.
"The cool thing about this class is that you can go buy a car from a Chevrolet dealership and race it pretty much the way you get it," said Barton. "You can go to a dealer and get one and that's cool. A guy like me will need a loan to do it, but it can be done."