4-Wide zMax Winners
Charlotte 1 Recap
Ladies and Gentlemen, as sad as it is for me to say, we are now ¼ of the way through the 2017 NHRA Mellow Yellow season after this stop at the beautiful "4-Wide" zMax Dragway in Charlotte, NC. Quotas were set at the usual 55 in all classes except Stock which was set at 65, but they would host the factory showdown cars as they made their 2nd of 4 stops here this weekend. With the races starting to head east and the first couple with no real hiccups in the program weather wise, with the shocking exception of Vegas, one would think that we would be due for some weather to hinder our weekend drag racing fun, right? Well not this weekend as once again the program went along as intended, besides a few oil downs that scrambled the daily schedule around a bit, but at the end of the day every class would eventually get 3 time trials and even class eliminations. As it has happened at every race so far this season there was a good mix of veteran winners and first timers, along with another double up winner, which seems to be happening more and more this year than ever.
Factory Stock Showdown: Peter Gasko Jr. over David Barton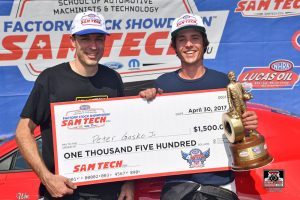 Gasko holds off Barton on a holeshot win to take the 2nd Factory Stock Showdown title this year. Gasko put up strong numbers in qualifying to get into the #2 spot overall and knew he had to be good on the track and on the starting line to beat Barton, who has been dominating this class over the past few seasons. Gasko smacked the tree with a .008 light which is what allowed his slightly slower elapsed time of 8.262 to get him the win light, Barton ran 8.227 but had an unusual .090 reaction time.
Comp: Bruno Massel over Patrick Ross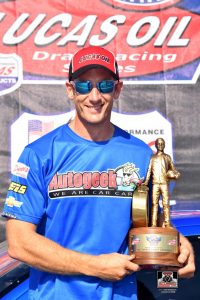 Massel drives passed Ross by .002 to take home his 11th National Event Wally and 10th in Comp Eliminator. Massel was qualified #1 at almost .80 under the index but came into the final round down .10, Ross qualified #9 and was only down .06 on his index. Ross was ahead first and ahead on the tree with a .019 reaction time and ran 7.749 (-0.531 under). Unfortunately, that wasn't enough to hold off the turbo car as Massel ran 7.024 (-0.556 under) with a .042 light.
Super Stock: Peter Biondo over Joe Lisa
Biondo collects #51 in his first race back since winning #50 at Maple Grove to end his season last year. Lisa ran a 10.356 on a 10.33 dial with a .042 light, Biondo was dialed 9.65 and ran 9.680 with an impressive .005 reaction time. Biondo was on point with his reactions times all weekend, being between .005-.026 in eliminations and with him having almost 4 hun advantage at the starting line, you could almost say that this race was over before they came down from the wheel stands.
Stock: Kyle Kohr over Jeff Hairrington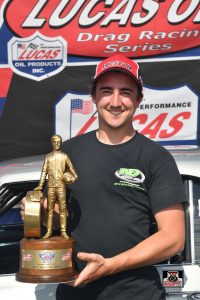 Kohr chalks up another win for the stick shift drivers and is now 1 for 1 in final round appearances. Kohr left first with a 10.70 painted on the car and a .036 light, a little over a bulb later Hairrington began his pursuit with a 10.13 dial and a .069 light. The difference in the race was the difference in the reactions times as both drivers were 3 hun over the dial in's, Kohr running 10.737 (10.70) and Hairrington running 10.165 (10.13).
Super Comp: John Labbous Jr. over Franklin DiBartolomeo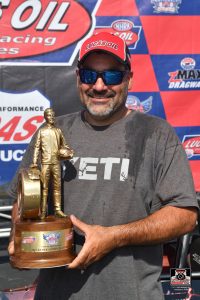 Labbous gets his 3rd National Event title and keeps his chances alive to complete the "double up". DiBartolomeo was a thou ahead of Labbous on the tree, .027 to .028, but was .006 behind at the stripe running 8.916 on the 8.90 index while Labbous was dead on 9 (8.909).
Super Gas: John Labbous Jr. over Matt Tankersley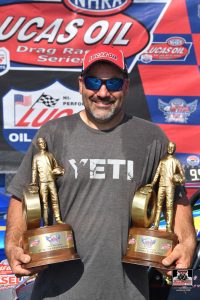 Labbous is able to complete the double up and become only the 22nd driver to ever do so. Powered by a .001 reaction time, Labbous was able to get to the stripe first by .010 and win a double breakout by running 9.895 on the 9.90 index. Tankersley was just a little too quick on the track running 9.883 with a .023 light.
Top Dragster: Ivey Brannon over Alan Kenny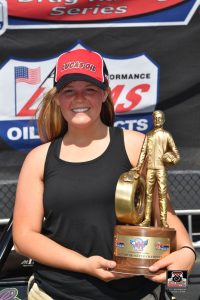 Brannon is able to hold of Kenny for her first win in her first ever final round. Brannon started out with almost a full tree head start dialed 7.13 to Kenny's 6.20, the lights were close with Kenny having the slight advantage (.015 to .021). But at the stripe it was Brannon who would be victorious running 7.148 when Kenny couldn't run the number running 6.243.
Photos By – Auto Imagery