The Future of Stock Eliminator Is In Your Hands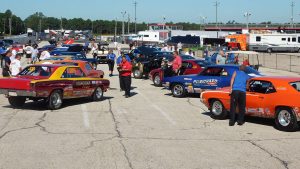 What is Stock Eliminator? Well, it means something different to just about anyone you ask. Some love the history, others love the American muscle, others love the competition. One thing is for sure though, we all want Stock to continue as a legitimate racing category. But racing classes can't simply exist.
They require suitable participation, and for longevity, they must be attractive to up-and-coming racers. Fan and manufacturer appeal doesn't hurt either. You may be shocked that the level of performance is irrelevant if you have an exciting formula. And Stock has what the people want. Fans can relate to the wide range of cars and trucks, there's plenty of wheelies and quick runs and the competition is awesome.
Rolling it back, we know Stock Eliminator has been a grass-roots class for decades, the original spirit was to push American muscle cars to go as quick as possible. Most of the cars came from the showroom and were raced with seemingly few mods. Today's cars are more "race" than "stock" but that's not a bad thing. Stock has always evolved, but in the last 15 years rule changes and technology have allowed the performance level to plummet from 10s into the 8s, and from the low 130s to 170 mph. Amazingly, though, you can still arrive with a basic and affordable car on an open trailer and win.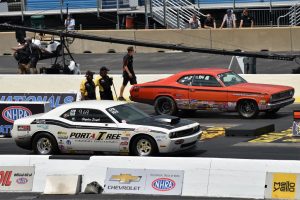 But considering the massive leap in performance over the last three years, we have to wonder what the future holds? The wave of factory-built cars has certainly changed the face of Stock Eliminator, and that's a separate debate. The Cobra Jet, Drag Pak and COPO Camaros have been met with great controversy because they give manufacturers the chance to hand-pick combinations and build cars that rock right out the box. And when introduced, they raced against cars that had decades worth of development. This pissed off quite a few racers. Ultimately, NHRA separated the classics from the 2008 machines.
Flip the coin and you'd see that these cars were necessary if NHRA and the racers wanted to have new cars on track. The problem, every new regular production muscle cars carries way too high a horsepower rating to be competitive. Plus, racers weren't flooding the showrooms purchase a $30-50,000 car only to tear it apart to make it a dedicated Stocker, or Super Stocker for that matter. Of course, many racers would have been okay if no one built a new car, and Stock morphed into a nostalgic throwback class.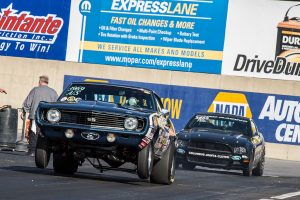 Personally, I'm a huge fan of classic and current muscle. I think the class needs both and it can have both. It's been my intent since I began racing Stock in 1994 to help grow Stock and Super Stock through participation as a racer and a journalist. I feel lucky to enjoy the competition and to do a small part to help ensure there's a future for our type of racing. Not everyone will agree with all my thoughts or opinions, and that's okay.
When I started racing my 1987 5.0L Mustang, I drove it to the track, swapped wheels and tires and drove it home. I even raced it as a Stocker this way in 1994 and ran very close to the 13.00 L/S index. The rules mandated stock-type brakes, fuel tank, seats, etc. You had to have much of the factory gear and with that I was able to get involved with a street car. We know that's not the case any more. So, if you're interested in continued growth, not only from the angle of the super cars, but of all cars, we need to promote affordability and help get new people involved and keep it affordable for those without a big budget.
My solution is to make a few changes to the class structure. And in doing so, give racers the chance to have greater performance for not a lot of money. Hey, we all want to go quicker and faster, and here's how I'd do it.
The first recommendation would be to combine sticks and autos and to allow a wider swing with weight breaks. Instead of moving through three classes, let racers go lighter if they can do so legally. Next, I think we should consider allowing any approved corporate engine to be used in any approved body/chassis and let the car run where it falls in relation to horsepower and weight. I know the purist's heads just exploded, but hear me out. Engine swaps are the rage in the hot rod community, and it seems an easy fit for Stock. Sure, it goes against the purity of the class, but let's face it, that purity has been out the window for some time now.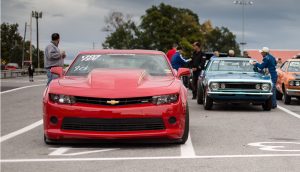 Swapping engines wouldn't prevent anyone from spending money if they didn't want to, but it might get some racers back on track. Want to keep racing your '69 Mustang but you hate to cost of building an FE, now you'd have more options. When I hear the cost of a Stock Eliminator 396/375 Big-Block is upwards of $30,000-40,000, I cringe.
Go to any car show or cruise night, and you see '68 Camaros with LS swaps, or classic Mustangs with a Coyote. People can relate to it. I would also be for allowing a crate engine or two from each participating manufacturer. This would ease the burden of locating parts and it gets Chevrolet, Ford and Mopar more involved in Stock Eliminator.
As with anything, these ideas benefit some and not others. But that's the case with any modification to the rules. These are simple ideas to keep Stock Eliminator attractive to many racers, fans, future participants and manufacturers.