1964 Chevelle SS – Plug n Play Super Stocker SS/FGTC
Want to get involved with Super Stock but are stuck between your love for old style cars and new technology? Well Richard Rinke has thought outside the box and made the blueprint for racers that have this dilemma, want a new combination, or simply want something completely different.
The "car" or should I say "body", is a 1964 Chevelle SS, but that is about the only thing that is Chevelle about it. Built at Turnkey Automotive in Oxford, Michigan, which also happens to be owned by Richard Rinke, this racecar has all the internals and components of a COPO Camaro. The engine is a 427 COPO motor built to NHRA specs, the transmission is a 4-speed G Force, and the chassis was done in house by Turnkey and MPR. The brakes, fuel system, radiator, rear end, tach and gauges, and wiring harness is pretty much directly as you would see it out of any real COPO Camaro at the track.
The car was built basically because there are none out there and Mr. Rinke wanted to prove you could build one that is really "plug n play" from existing components that are easily obtained. There are a great number of older Super Stockers out there, with the new style cars being slowly incorporated into competition over the years. With that said, most cannot afford the $100k+ COPO or Cobra Jet with the latest technology. On the other hand with the help of COPO Parts Direct, which is where Mr. Rinke ordered all his parts from, a typical old school Super Stocker can be updated to this drivetrain very easily and in some cases cheaper than building an older style engine.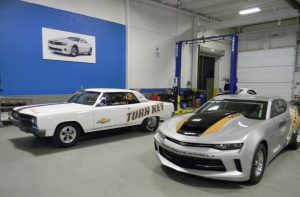 To this author, the real beauty of this combination is the chocolate chip cookie formula of the GM COPO engine management harness combined with the Holley EFI unit. Sure, you can order all the "hard" components like brakes and gauges from COPO Parts Direct, but your old school racer probably already has usable parts. Other than upgrading the fuel system to EFI specs, the rest of your existing car probably works. With the available COPO harness, there is really no wiring to be done, it is truly a plug n play set up in the purest form.
Kudos to Mr. Rinke for his out of the box thinking. Hopefully, once he takes this fine looking unit to the track and people see the results, more and more racers will embrace the new technology out there today, even if they want to integrate it into their vintage iron. Some might call it the best of both worlds!