A Day in the Life of Dan Fletcher: Racing and Family
Dan Fletcher has made quite the name for himself in the sportsman world of drag racing. Recently sc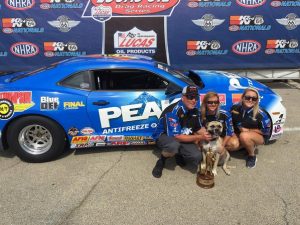 oring his 98th national event title, he has now earned the 98th spot on the NHRA All-Time List. However, this latest win was not run in his usual '69 Camaro, but instead, in a '15 COPO Camaro. This particular Camaro typically competes in Stock, but in the K&N Route 66 Nationals in Chicago it was entered in Super Stock… which ultimately ended up working out for the best. Even without a trans-brake, air-shifter and 14×32" rear tire, Fletcher had enough skill, confidence and talent to take home the win.
Still, taking home the tr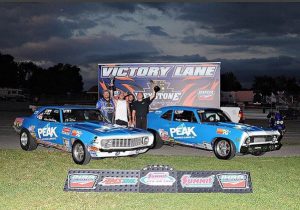 ophy is just "another day at the office" being that this is his career. He tells us that the support and encouragement from his family are what makes his wins that much more exciting and special. Ironically, his sons, Thomas and Timothy happened to be running at the IHRA race in Pittsburgh the same weekend as the Route 66 Nationals. Amazingly enough, not only did Dan win in Super Stock, but Thomas won in Stock and Timothy won in Super Street. It was easy to see that the smile on Dan's face showed that his sons' wins meant so much more than his own.
In addition to his sons, Fletcher's youngest, Taylor, had wanted nothing more than to race alongside her father and older brothers so, a few weeks ago, she finally got her wish. Their '69 Chevy Wagon was taken out of the mothballs and freshened up before Taylor's debut at their local track. She had been practicing with her daily driver prior to getting in the racecar in order to get comfortable with the feel of a quarter-mile drag strip. Her first time down the track in a racecar was incredibly memorable to say the least, Taylor tells us. When she is not juggling college and soccer, she is often times found traveling the country with her family from race to race which is one of the main reasons as to why she wanted to get her hands on a racecar of her own.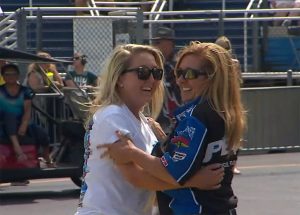 The backbone to the Fletcher Team is wife and mother, Donna. Although Donna doesn't race, she knows the extreme pressure put on her husband to triumph, so she always tries to make every trip enjoyable and notable for her entire family even when things may not go as planned. In the Fletcher family, it is clear to see that racing is significant, but nothing is as essential as having support and love from one another. Judging by their passion, hard work, and unconditional love for one another, this family is unbreakable and unstoppable.