Lee Zane To Join Vinny Barone Racing
Vinny Barone has added another driver for the 2015 season. To complement Scotty Richardson, Vinny has brought Lee Zane on board. Lee, a two-time world champion in Stock Eliminator is well known for his driving skill. Lee has raced in almost every sportsman class and had also took a shot at Pro Stock, teaming up with Kevin McHugh in the McHugh Zane Motorsports team. Lee is no stranger to Comp, driving for the very successful team of Dave Ring and Al Ackerman, it seemed like a no brainier for Vinny to pick up Lee as his second driver knowing he was available.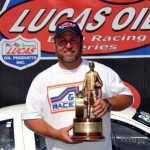 Anyone that knows Vinny, knows that being competitive is only part of running Comp. The Championship is the ultimate goal, and Vinny does what it takes to get there. After a great start last year with Richardson at the wheel, the season took a turn for the worst. Richardson's unfortunate accident at the NHRA Division 1 LODR event at New England Dragway in Epping, NH marked the end of any chance on wining the championship in Comp for the 2014 season.
Vinny has had lots of success with championship caliber drivers, such as Sal Biondo, Peter Biondo, Anthony Bertozzi, Joe Santangelo, but only time will tell if Lee and Scotty will put Vinny back on top. Having two drivers that are as competitive as Lee and Scotty on the same team could make for an interesting season to say the least. There is no doubt that wins will come this season at Vinny Barone Racing, its only at what the cost will be.