Another Typical National at Maple Grove Raceway
Can anyone disagree? Another typical Maple Grove, rain, mud, potentially finishing on Monday, 1 time trial and go, those are things that are associated with this race for an far as I can remember plus some. I'm just going to have to say that last year was a complete fluke when the forecast did not have a drop of rain in the area and we had one of the more pleasant racing weekends of the year. 2018 on the other hand was back to the polar opposite with a Hurricane coming in down south, and about a week prior and dropping 5+" of rain in as many days. That is why the withdraw date was lengthened multiple times giving drivers until the very last second the make their decision on whether to attend or not, and when all was said and done I believe there was 184 total cars between the 5 sportsman classes on Wednesday which has to be one of the lowest counts ever.
The weekend for racing was excellent for what it was with "count em" 4 time trials in each category and class runs in Stock. The track surface was marginal after the morning rain before E1 and the eliminations following went fairly smooth with some relatively competitive runs being thrown down in early rounds of all classes. As one of my favorite races of the year, it has been getting harder and harder to get excited for it when its consistently the same cluster (you know what) but at the end of the day the people that showed up went down the track while others stayed home, and the show must go on and did with all winners being crowned on Sunday as scheduled.
Comp: Tom Martino over Jay Schonberger

Martino came into this event as the reigning class champion and will leave exactly that as he wins in back-to-back years while also being the top seed at -.674. Both these drivers took big CIC penalties in prior rounds with Schonberger down .14 and Martino down .13, who would also add 3 hun more to that total as he went 8.652(-.538) on his 9.19 index in the last round of competition with a .030 reaction time. Schonberger didn't have a green light that was only 2 digits all weekend and continued that trend in the final with a .243 reaction time and didn't have enough HP to overcome that react running 8.184(-.486).
Stock: Shane Oakes over Anthony Fetch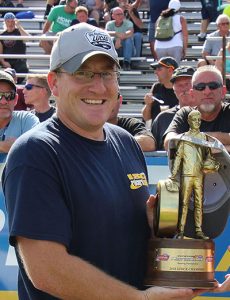 Fresh off his 1st ever little Wally win last weekend at the D1 finale in Epping, NH, Shane Oakes continues his winning streak taking the G/SA class win and big Wally back home. Not seeing the win light on in the other lane in 12+ rounds, Oakes pulled up for the final dial 11.14 against long time D1 racer/friend Anthony Fetch dialed in at 10.02. Leaving the line they were dead locked with .017 and .018 let goes, and once the throttle/brake work was done, Fetch's game plan almost worked as he let him go hoping he was going under to run 10.075 @118.21. But it was Oakes running dead on 4 to his dial for a .021 total package.
Super Stock: Anthony Bertozzi over Anthony Bongiovanni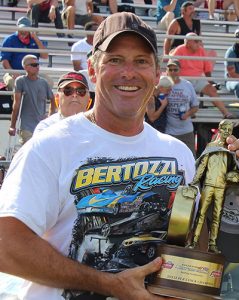 The battle of the Anthony's went to the more seasoned of the 2 as Bertozzi was able to collect his 20th National Event win. With already a Wally for each in this category, in this season, these 2 were bound to meet up throughout the year. As Bertozzi knocks the tree over with a .002 light, he was over 4 hun ahead as Bongiovanni was .048. Only a tenth separated the 2 cars with Bongiovanni running under his predicted 8.93 at 8.919, Bertozzi had some more room than needed and was able to kill some et and get to the stripe first running over his 9.04 dial at 9.062 for the win.
Super Comp: Mike Robilotto over Chris Garretson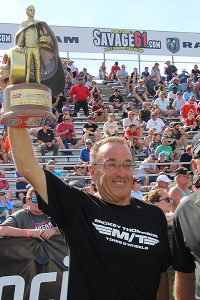 Robilotto now has 4 wins to his name and 2 this season alone, as he takes down the slow rolling Garretson. Robilotto was behind about 7 thou at the tree (.013 to .020), and may have lucked out when Garretson took almost a tenth and a half stripe to break out by -.007 going 129 mph. While Robilotto may have entered the wrong numbers into his timer to run 9.027 @175, he was way behind but had to win light on in his lane.
Super Gas: Ray Sawyer over Dale Koncen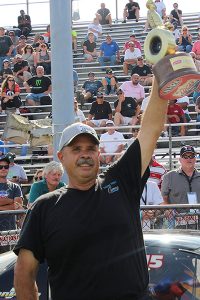 Sawyer now has 6 total National Event wins as he redeems himself from 1 year ago in this exact class. And well, the fat lady was singing before the 60' cones as Koncen went -.012 red, letting Sawyer get away with one with a .042 reaction time.