The Superbowl of NHRA Drag Racing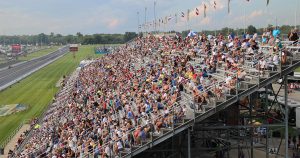 Indy, Indy, Indy. Home to 2 of the biggest events in the drag racing world, the PRI show in December and the Chevrolet Performance U.S. Nationals this past weekend. Racers will prepare for months, even years to get the chance to go down the track and make the 128 car field. Countless hours, time, and money going into these cars so they can be 100% ready for the almost week long event. This year was the 64th annual and the competitors really showed up in terms of numbers with 844 total cars and about 700 of them being sportsman racers, with 347 being stock and super stock cars. At over $300 an entry and only 128 cars being taken in each class, there was nearly 100 class cars that paid to make time runs and didn't get in the show.
With other "sub-events" inside the stock and super stock category (hemi shootout, class eliminations) most racers don't focus so much on winning the actual U.S. Nationals on Monday but getting the trophy in their respected class. With these engine being true mechanical works of art, following the guidelines of the rule book and tuning the car to the track and weather conditions, then being able to say you were the fastest car in your class at the end of the day holding that trophy up is a huge accomplishment that any class guy would want on there resume. To make the cut in Stock this year it took a competitor going more than -0.889 under there index, with the top dawg being the V/SA El Camino of Paul Wong who went 13.485, which was -2.015 under his 15.50 index. The Super Stock sheet was a bit more forgiving and only took more than -0.680 to get into the show, with the #1 qualifier being yet again Ernie Neal in his GT/N Cavalier that went -1.497 under his 11.05 index.
One of the most exciting sportsman classes being the Factory Stock Showdown cars had 29 entries which is 7 more than last year for only a 16 car field, again showing that the drag racing world is alive and well. In just 1 year these cars have come a very long way with a couple dropping et slips that are in the 7 second area. Last year the #1 car was David Barton with an 8.10 pass @165, in 2018 the new to Factory Stock Leah Pritchett was the #1 qualifier at 8.002 @172.56 with her teammate Mark Pawuk #2 at 8.027 @170.39, as both of these drivers went on to meet in the final they definitely showed that dodge has more than enough power.
The .90 categories don't have anything special in terms of class or shootouts and they don't have to have a specific engine or engine components to compete, but they are all remarkable machines. Some say dragsters are dragsters but when you have someone going 8.90 @165 vs someone who is going 8.90 at nearly 200 mph, that is a drag race that I want to see. The talent level and preparation it takes to be able to judge other drivers when not 1 dragster has the same wide open et or mph is unmatched. So unless your homework is done before the round and you know your opponent, if your a 175 mph car you could be chasing 10-15 mph or getting chased 10-15 mph once the throttle stops open up and at that point you have less than 6 seconds to adjust and make your decision approaching the stripe. And the same thing goes for the 9.90 cars but on a slightly slower scale, only in this case they are not dragsters but whatever your heart desires. The sky is the limit in a sense for a super gas car from a willys, to a corvette bodied roadster, to a slammed/big tire/big motor muscle car.
With so much success and possibly the biggest car count in the last 10 years, I'm already wondering how Indy 2019 will top this year. And with the economy on the rise and drivers who didn't have cars done in time already having penciled in Indy on there calendar for 2019, I'm willing to bet that every category will see a 5-10 car increase. And if we are in the betting mood, will we see the top 2 Factory Stock cars in the 7's, how about the top 5? Will the entire 128 car Stock field be -1.000 under? I guess us as racers will have to do what we do best, work on our programs, spend hard earned dollars to make it even better, and wait about 355 days to find out.
Factory Stock Showdown: Leah Pritchett over Mark Pawuk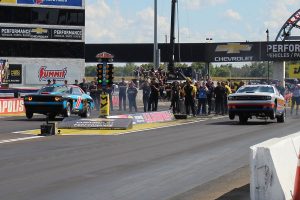 .050, 8.108 @170.26 def. .027, 8.191 @167.51
Comp: David Rampy over Greg Kamplain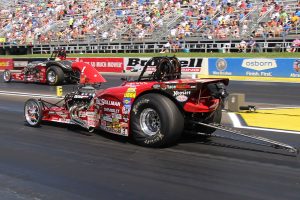 .028, 7.386 @154.25 (-.414) def. -.004 red light start
Super Stock: Dennis Steward over Dale Hulquist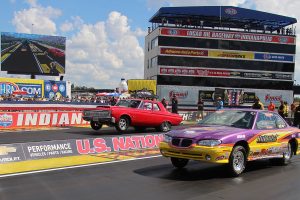 .203 on the tree def. -.003 red light, dead on 10.307 @129.58
Stock: T.C. Morris over Jerry Emmons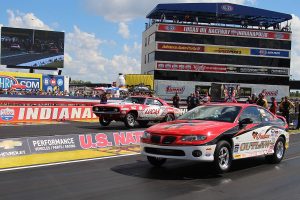 .034, 10.971 @121.11 on the 10.96 dial def. -.033 foul, 10.203 @129.45 on the 10.21 dial
Super Comp: Joe Hessling over Gary Stinnett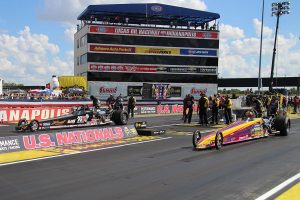 .035, dead on 8.903 @189.90 def. .047, 8.912 @179.18
Super Gas: Devin Isenhower over Steve Hoyt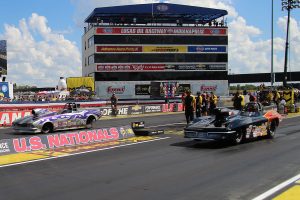 .017, dead on 9.907 @157.50 def. .038 and problems going 10.271 @132.26