NHRA Heartland Nationals Recap
Menards NHRA Heartland Nationals presented by Minties is the 8th stop on NHRA tour. Although plagued with rain delays, the race was finally finished on Monday. Qualifying started on Friday along with a great day of class racing. Saturday started out with round one of eliminations for the sportsman's. Sunday morning was supposed to start out with sportsman eliminations round 2, but pending weather canceled the early start. A schedule change was made to run all sportsman after the Pro's run their finals. The on and off rain on Sunday pushed all finals to Monday. Monday turned out to be a beautiful day for racing with 3 winners collecting their first Wally.
Super Stock: Michael Mans over Gary Stinnett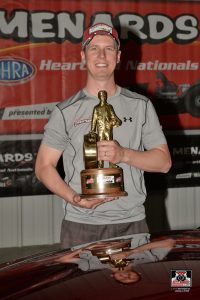 Michael Mans collected his 3 National event win when Gary Stinnett could not make the call. Gary had issues with his race in the 5th round that could not be resolved for the finals. Mans had two competitions bye's along with a no show in the finals, it was his day as they say.
Stock: Tyler Wudarczyk over Marion Stephenson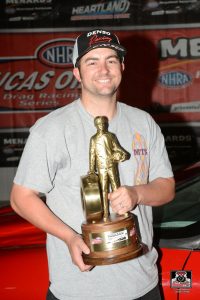 Tyler Wudarczyk had a .008 in final making it tough on Stephenson who has been driven great all weekend. Stephenson's .026 red light gave Wudarczyk his 3rd National event win on the delayed Monday race.
Super Comp: Danielle Jaramillo-Miller over Don Nichols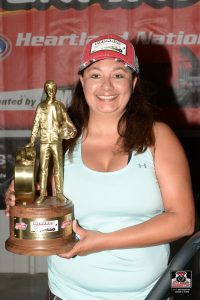 Danielle Jaramillo-Miller takes on Don Nichols is a division 5 final. Miller is .014 on the tree and .020 over, Nichols is late with a .061 and had no room to get in on Miller, and broke out. First final round for both drivers, Miller gets the her first National even win.
Super Gas: Kevin Theobald over Bob Fuller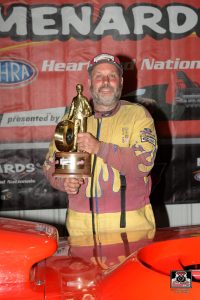 Kevin Theobald goes up against Bob Fuller, Fuller is a five time finalist with four wins. Theobald has never made the finals. Theobald is .019, Fuller is .001, it looks like Fuller will get his 5 win, but he cant run the number and Theobald gets his first National event win going .027 over to Fuller slowing .056 over.
Top Dragster: Phil Unruh over Steve Will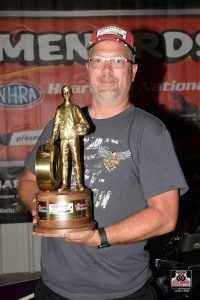 Phil Unruh and Steve Will battle it out the Top Dragster final. Unruh is in his six final round with five wins, Will has one win. Will goes red by .004, giving Unruh is 6th National event win, Unruh was .016 and ran a 6.349 on a 6.36 dial.
Top Sportsman: Dusty Meyer over Phil Dion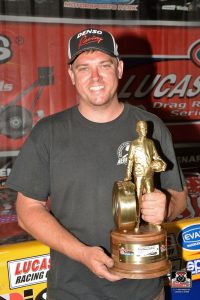 Another first win, as Phil Dion could not make the call. Meyer makes a full pass and collects his first National event win.
Photos By – Auto Imagery