Charlotte 4-Wide Recap
The NGK Spark Plug 4-Wide Nationals is something racers and fans from the east coast look forward to every year, as one of the best, if not the best facility in drag racing hosts every single category (but 1) the NHRA has to offer. The event started out with some rain for racers in the holding lot that continued into "parking day" but eventually subsided for a beautiful weekend of racing. From a racer standpoint with 15 out of 16 categories and class eliminations in SS having this event over only 3 days seems a bit outrageous, but NHRA used their magic formula and calculated that cutting time trials down to only 2 for sportsman to save a day was the best business decision. With a 3 hour delay for the track weeping on Friday and absolutely no room for error in the schedule the 2nd sportsman session was postponed to the night after the pros. Unfortunately it was too late, the track cooled down and all the racers that were in the lanes at 8pm were turned around and told they were going into rd1 Saturday morning with only 1 time trial given for the majority of sportsman. Although it was a rough start to the event, the next 2 out of only 3 days went along smoothly and eventually Wally's were handed out to champions.
Factory Stock Showdown: Arthur Kohn over David Barton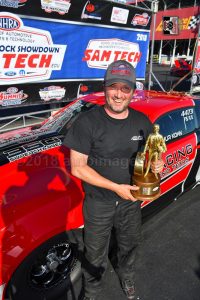 Kohn was able to use a .008 reaction time to steal the show away from Barton in a big hole shot final round. Barton came in heavily favored after qualifying #2 at 8.061 and making very consistent laps all weekend. Kohn knew he had to be on at the staring line and crushed the tree to have about 6 hun in the bank as Barton had a .070 light. At the finish line Kohn had about a .0117 MOV running 8.087 @168.56, Barton ran a very stout 8.036 @167.84 in a losing effort giving Kohn his 1st ever Wally.
Comp: Frank Aragona over Al Ackerman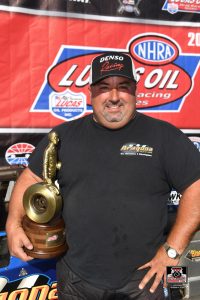 Starting the weekend qualifying #1, Aragona ends the weekend #1 with his 11th National event win. Aragona had enough power left for the final after taking a .03 CIC index hit in the semis to run 7.378 with a .034 reaction time. While Ackerman took a .09 CIC hit in an earlier round was unable to hold him off running 7.983 with a .024 light.
Stock: Thomas Fletcher over James Williamson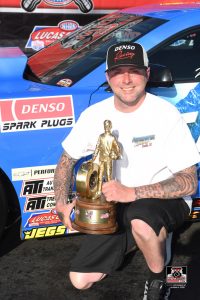 Fletcher was able to use a big reaction time advantage to secure his 2nd National event win. Fletcher was dialed in at 10.21 and left .043 after perfect, which was about 7 hun better than his opponent with a .114 light. Driving around Williamson at about 800′ Fletcher was able to kill enough et to run 10.228, Williamson was dialed in at 11.51 and broke out following Fletcher through the stripe at 11.485. Missing the tree, crossing the finish line 2nd, and breaking out are not recipes for success, therefore the Stock trophy went home to NY.
Super Stock: Anthony Bertozzi over Bryan Worner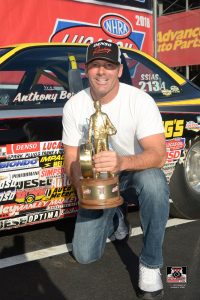 Bertozzi gets his 19th win as Worner fouls away his chances with a -.004 red light. Worner was getting chased with a 10.10 dial but was a little too ansy getting off the button and was the last loser in the category before Bertozzi even left the starting line. Bertozzi was dialed 8.89 and had a .024 light, realizing the win light in his lane saved the parts for the next race and shut it down and coasted across the 1320′.
Super Comp: Jonathan Anderson over Sherman Adcock
Anderson was able to leave 1st but cross 2nd and get the double breakout win for his 2nd National event win. Leaving the line with a .015 reaction time, Anderson was out in front of the .018 bulb of Adcock. As they got down to the stripe Adcock trimmed it down to .008 but should have gotten behind as he ran under the 8.90 index at 8.880, Anderson also ran under but by a lesser margin at 8.891.
Super Gas: Ken Griffiths over Steve Furr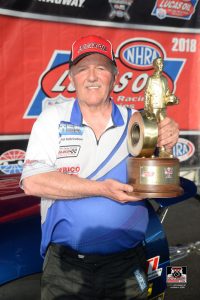 Griffiths slightly missed the tree with a .040 reaction time, leaving himself  vulnerable enough for Furr to get inside his overall package. And as Furr left the line with a great .005 light, it was unfortunately on the wrong side and gave Griffiths the automatic win.
Top Sportsman: Don O'Neal over Sandy Wilkins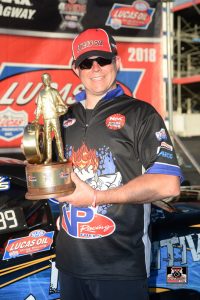 O'Neal was able to stay ahead of Wilkins to collect his 1st win. The final round had O'Neal dialed in at 6.89 and Wilkins dialed in at 6.59, while O'Neal left with a worse .032 light he was closer to the dial running 6.903. Wilkins was better out of the gate with a .023 light but missed the dial by running 6.627, giving O'Neal the .015 MOV.
Top Dragster: Holden Laris over Larry Roberts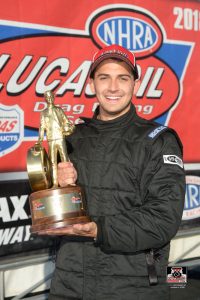 Laris gets to the stripe by 3 corn fields (.244) to get his 2nd National event win. Dialed in at 6.21, Laris left first with a .015 light and ran 6.235 for a .040 total package from perfect. Roberts left the line very distracted with a .260 light and ran 6.104 on the 6.08 dial for a total package that was about 7 times that of Laris.
Photos By – Auto Imagery