Houston SpringNationals Recap
Royal Purple Raceway in Baytown, TX was home this past weekend for the NHRA circuit and although the racers were small in terms of categories, they were the opposite in competition with many drivers running dead on in final rounds with very competitive lights. The weekend started out great on Friday with time trials for everyone and class eliminations for Super Stock, but eventually the weekend succumbed to mother nature on Saturday and delayed racing. With only 173 total sportsman cars, the event was wrapped up smoothly on Sunday and winners were crowned by dinner…
Super Stock: Brenda Grubbs over Craig Gualtiere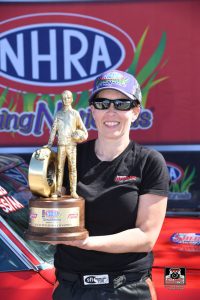 Grubbs collects her 2nd win in her 4th try, after coming off the bye run at 3 cars where she ran dead on 0 with a .012 light, she was about as ready as you could be for the final. Dialed in at 9.26 she would be leaving less than a bulb after Gualtiere's 9.68 dial. With Gualtiere's .051 light compared to the .014 of Grubbs, she was able to go around him before the stripe and scrub some et running 9.284. Gualtiere ran a closer 9.691 but was too far in the hole from the beginning, giving the win the Grubbs.
Stock: Tim Snively over Brandon Bakies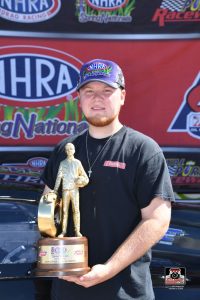 Snively pulled up to his 1st National event final round after taking out multi-time champions such as Slate Cummings and Austin Williams with an 11.73 dial. Bakies was doing the chasing with an 11.07 dial and as the reaction times were a coin flip, .047 for Bakies to .049 for Snively, and the stripe was going to shape out to be just as close. Bakies ran an eventual 11.091 @114, while Snively ran closer to the dial at 11.745 @110 for the close .004 MOV.
Super Comp: Lyndon Rutland over Austin Williams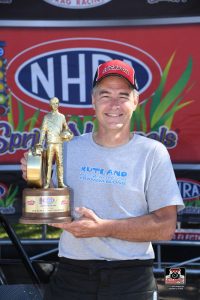 In about the best final of the weekend, Rutland prevails for the 1st NHRA national win of his career with a .001 MOV. These drivers were identical on the tree with an .018 light and Rutland was able to go dead on 1 to the 8.90 index @180 mph for a .019 total package. The current world champ may have let Rutland drive around him as Williams goes 8.902 @157, in the previous round he stopped the clocks @176. Regardless of all the numbers the power was on in Rutland's lane and the trophy was his.
Super Gas: Koy Collier over Steve Collier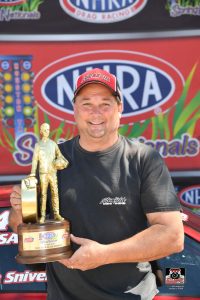 Chalk a win up for the "student" as Koy takes down his father, Steve for his 2nd Wally. Koy was out of the gate first with a .023 light as Steve slightly missed it with an .039. Trying to make up for it at the stripe Steve ended up running under the index at 9.890, Koy on the other hand was fully in control of the race as he had the better light, got to the stripe first, and ran dead on to the index at 9.902 for the win.
Photos By – Auto Imagery