Phoenix – Arizona Nationals Winners
A sold out crowd at the NHRA Arizona Nationals enjoyed some great sportsman racing. First time winners and veteran heavy hitters share the winner circle at the 34th annual race in Wild Horse Pass Motorsports Park.
Super Stock: Justin Lamb over Mike Cotten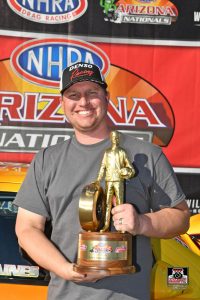 Mr. Justin Lamb continues his 2017 success with another win just 2 races into the 2018 season, showing everyone why the #1 is on the side of that Silver State Plumbing sponsored Cobalt. In kind of the same but kind of the opposite race of the Stock final, the Super Stock final was also won on the starting line, just in the reverse fashion of red…….late. Cotten was really good all weekend, getting by heavy hitters like Dan Fletcher and Jody Lang in the prior 2 rounds but must have been distracted in the final with an .085 reaction time chasing the 10.03 dial. Lamb had 7 hun in the bag with a .016 light and had room to kill some et at the stripe, running 8.513 on the 8.47 dial. While after missing the tree Cotten also ran 5 thou under his dial at 10.025 for what is called a double negative, late and under, which is not a recipe for success. Lamb now has 19 wallys in his trophy case with #20 hopefully coming by year end.
Stock: Jody Lang over Brian McClanahan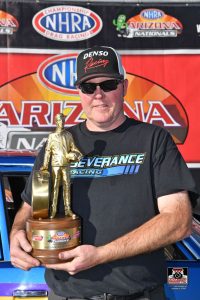 Slow and steady can indeed win the race as the 12 second M/SA wagon of Jody Lang gets parked in the winner circle this weekend. The final had Lang dialed in at 12.17, obviously leaving first over the AA/SA entry of McClanahan that had a 9.91 dial. Lang was a safe .028 on the bulb but with McClanahan waiting over 2 second to swap feet, when it finally came time he did it -.004 too soon. Both drivers shut it down early and coasted off the track, giving Jody Lang his 29th national event win and his 20th in Stock Eliminator.
Super Comp: Trevor Harkema over Glenn Kern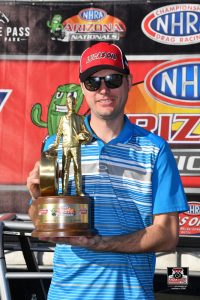 Harkema is the first, 1st time winner on the weekend as Kern was also distracted when it was time to let go. Harkema had over a 5 hun starting line advantage with a .013 light and used it at the end of the track to tighten up the finish line also to .013. Although Kern ran a closer 8.927 compared to a 8.968 for Harkema, he had a .067 light, which doesn't usually get you a lot of round wins in 8.90 racing and in this occasion it proved that.
Super Gas: Todd Barton over Val Torres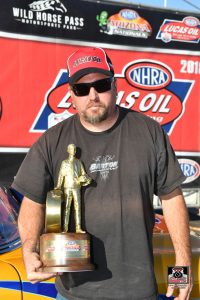 Everyone says you need a Vette bodied roadster that goes 160+ mph on the stop to run 9.90? How about a b**a** Chevy Bel Air is what Todd Barton says! Coming from the #1 qualifying position after running 9.900 in rd1, he uses a .015 total package to defeat Torres who ran under by just 1 stinkin thou. Barton had the lead at the beginning with a .010 light to Torres' .022 and took .006 at the stripe to run dead on 5 to the class 9.90 index. Torres made a great pass and although he just ran under by -.001 at 9.899, he was mathematically ineligible with the .022 light.
Super Street: David Kiesel over Chris Borges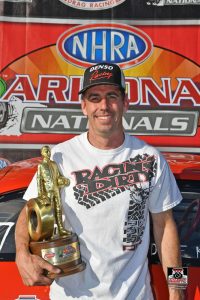 Kiesel is also a 1st time winner in a double breakout victory, after starting the race with a .005 light. Borges picked a bad time to be behind on the tree with a .041 reaction time, after being .00 in every elimination round prior this weekend. At the 1320′ Kiesel took the stripe by .031 and ran 10.895, Borges was also set up a little quick at 10.890 and may have stole the win light away if he hit the brake pedal at about 1300′. But with his foot pinned to the tin, the double breakout win went over to Kiesel.
Top Sportsman: Bryan Warr over Bud Preuss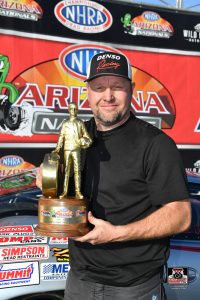 Neither of these drivers have ever won a national event. Warr left 1st with a 6.93 dial in but only had about a hun head start with Preuss having a 6.79 dial. Preuss' Camaro got a little out of shape around the middle of the race track and he could never recover, running 6.851 with a .027 light. Warr with a great .013 reaction time never trailed running 6.978 which was enough to hold off Preuss for the win.
Top Dragster: Paul Nero over Rodger Comstock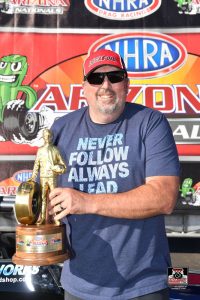 In almost a heads up dial in race, Nero overcomes a huge starting line disadvantage to collect his 3rd win. Comstock was away 1st with a 6.83 dial but Nero was right behind with a 6.75 dial, Comstock smacks the tree with a .002 reaction time and Nero was .044 behind that at (.046). At the finish line Comstock decided to trust his car more that his judgement, which turned out to be the wrong thing to do as he ran under his predicted 6.83 at 6.817. Nero did what any bracket racer would do and realized he was not getting there and sent the stripe MOV through the roof with his brake pedal and took the win running over the 6.75 at 6.760.
Photos By – Auto Imagery