Pomona 1 – Winternationals Winners
As always the weather at the 57th annual Lucas Oil NHRA Winternationals was perfect. With mostly sunny skies and temps in the lower 80's racing was at its best. Heads up battles in Stock and Super Stock were alive and well. The winning-est driver in NHRA sportsman history wins another, brother's battling it out in the finals and a heads up final in Stock.
Comp: Dan Fletcher over Clint Neff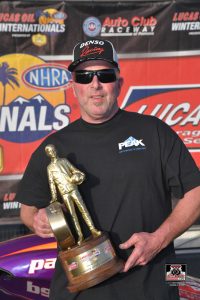 After finishing 2017 out with a Comp win in Pomona, Fletcher starts the year out exactly the same with another Comp win at Pomona. Bringing his win total up to 103, he now only needs 2 more wins to go into a 2nd place tie with Frank Manzo on the all time win list. And if that doesn't happen by the end of the season ill be shocked. This past weekend, Fletcher was near perfect in the final with a .006 reaction time and had the win light in his lane before the finish line as Neff went -.016 red. In a mine shaft event, Fletcher was down .11 and Neff down .10 in the final but neither driver needed to use anymore index as the race was over before half track.
Super Stock: Kyle Rizzoli over Adam Emmer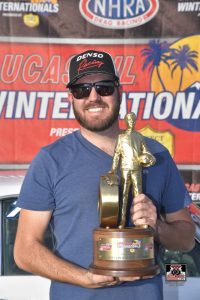 Rizzoli uses his bracket racing skills to tighten up the stripe to .003 and grab his 6th wally. Both of the drivers made extremely great runs with Emmer having a .032 total package and Rizzoli having a .029. The final round had Emmer leaving first with a .022 light dialed 10.11 and running 10.120, Rizzoli was better on the tree with a .010 and used almost all of the room he had at the stripe to run 9.579 on the 9.56 dial.
Stock: Larry Gilley over Ryan Mangus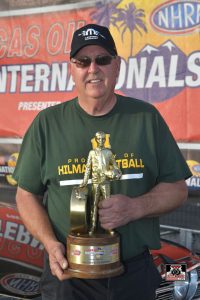 Heads-up final! Both of these cars with E/SA on the window this weekend, with Mangus having a slight advantage in qualifying coming out of the #13 spot as Gilley was qualified #16. In the final round Mangus left second with a .012 reaction time to Gilley's .009, at the end of the track Gilley was able to collect his 4th national event win as he runs 10.627 @121.27. Mangus put up a great fight running 10.664 @122.73 but fell just a few ticks short as both of these drivers run over 1 second under the 11.70 class index.
Super Comp: Gabriel Torres over Val Torres Jr.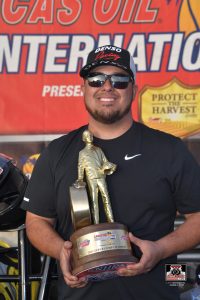 "Brotherly love" goes all the way to the racetrack as younger Torres gets the better of the two brothers with his 2nd win. Out of the gate neither of the drivers were on their usual game with Val having the advantage (.024 to .035), as the throttle stops came off Gabe was way out in front and kept that pace running 8.922 on the 8.90 index. Val made the top end charge as he had about 10 mph on his brother but couldn't run the number going 8.941.
Super Gas: Kevin McClelland over Phil Unruh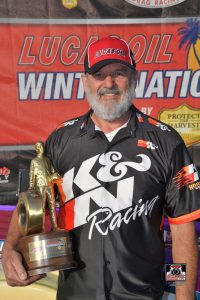 D5 Kansas runner Phil Unruh took .006 in the final round but needed to take .005 as he handed the win over to McClelland when he ran under by just 1 thou. McClelland left .007 from perfect chasing the 9.90 index and had about 2 hun on Unruh as he was .026 on the tree and at the finish line McClelland shows you dont need a big mph car to get it done running 9.924 @149.22. Unruh had to make up for the starting line deficit and almost did but ran under by just .001 at 9.899, giving McClelland the automatic win.
Top Sportsman: Paul Mitsos over Don Meziere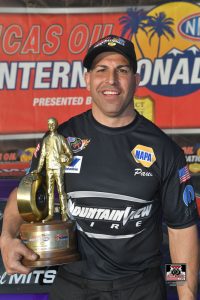 When your reaction times are between .008-.013 throughout eliminations you pretty much deserve to win and that was the case for Mitsos in his route to his 1st win. Mitsos was first to leave as he usual does with a 7.11 dial and his worst of the weekend, .013 light, Meziere was just a little too eager to leave with a -.008 red light going after his 6.90 dial. Both of these drivers stayed in the gas for the full 1320 and it turned out to be a bad choice for Meziere as he found himself in the sand box at the end of the track after the full pull. He was quickly out of the car and ok after running 6.921 on the 6.90 dial, Mitsos may have been holding a little after running 7.098 on the 7.11 dial but he will never know as he was already the winner.
Top Dragster: Steve Will over Kyle Seipel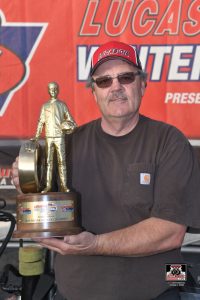 Our last 1st time winner of the weekend was the fastest bracket car on the property. Will qualified #1 at 6.035 and was dialed 6.01 in the final, Seipel dialed in at 6.81 made a unusually slow pass at 6.862 with a .027 light giving Will enough room to run 6.043 @234.13 with a .024 reaction time and his 1st wally.
Photos By – Auto Imagery