Austin Williams 2017 Super Comp National Champion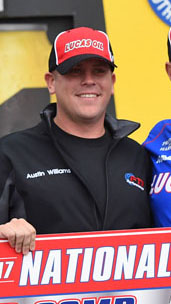 As hard as it is winning 1 World Championship in any drivers career, Williams has now added a Super Comp title to his resume, only 3 years after winning the Stock World Championship. Austin Williams started his Championship season off relatively slow, with his first event being Houston, TX divisional where he would fall in rd1. Headed over to Belle Rose, LA for a divisional then back to Houston for his first National event of the year, Williams was still not himself, bowing out in rd3 and then again in rd1 at the National….I think its safe to say the Houston events were not very good to Williams this year.
After collecting only 111 points in his first 3 events, Williams would find his rhythm and do a complete 180 with his season. Starting with Dallas divisional, he would reach a semi final, a win, and a runner up in 3 consecutive races (Dallas, Topeka national, Jegs sportsnational in Bowling Green) giving him 383 points at the end of May.
After a month off Tulsa, OK was the next on the list for Williams, with Chicago national being the following weekend. And it seems as though its either all or nothing because he would again be tied down after rd1 at both events, resulting in 2 throw away scores. At this point we are about half way through the season and with a score of 453, Williams would need about 200 more points to have a score that is usually enough to win a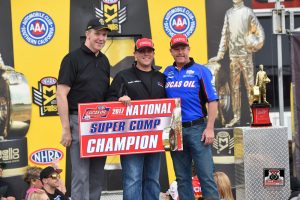 championship each year. So he would then head over to one of his favorite tracks, Topeka, KS for a double divisional event the last weekend in July, knowing full well that if he is dropped early at each of these races he can kiss his championship season good bye. Well, as you can tell that was not the case as he got to the final both days and because of car count a runner up was worth 104, giving him 208 points.
After another almost 2 months off, another cold streak for Williams would hit as he would only get to rd 2 and rd3 at Dallas divisional and St. Louis national. Determined to end the year strong and solidify the championship, 1 week later he headed over to Noble, OK for yet another divisional to fulfill his allotted point claimers. Williams would grab another win, bettering a 30, netting him 75 more points. After attending Dallas and Pomona nationals at the end of the year that would play no part into his final score, Williams would end the season with 2 wins and 3 runner up finishes racking up an impressive 687 point total for his 2017 World Championship season.