Justin Lamb 2017 Stock & Super Stock National Champion
Justin Lamb entered the 2017 season as a two-time NHRA Lucas Oil World Champion, with hopes of potentially adding a third title to his resume. And well, I guess you can say he went above and beyond, finishing the season as a four-time Champ after winning both the Stock and Super Stock Championships, becoming just the 3rd driver ever to double up by winning 2 Championships in a single season. But not only did Lamb earn 2 NHRA Lucas Oil World Championships, he also earned Division 7 titles in both categories as well, ending his dream season with 10 trophies in total.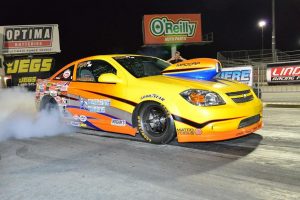 In Super Stock, Lamb drove his Chevy Cobalt to a national event win at the Pomona season opener and later added divisional titles in Sonoma, Seattle, and Woodburn. In Stock, he drove his '70 Camaro to a runner-up finish at Phoenix national, then "got hot" after debuting his '17 COPO Camaro, scoring a runner-up at Seattle national, a win at Woodburn on the divisional level, then ended the year with a national win at the second Vegas event.
Lamb started the year out as usual in his home division at Pomona, CA for the winternationals and managed to score a win in Super Stock for a perfect 105 point start, however the "throw out" 40 points that he earned in Stock would end up being just that. From there it was off to Phoenix for a 2-for-1 tow as the divisional event would follow the national the next weekend. Super Stock would turn out to be a bust as he accumulated a total of 70 points in those 2 weekends, the opposite story for Stock as he scored a runner-up and a quarter final finish. Following Phoenix was a month off for the Henderson, NV native until the NHRA circuit came to his home track, Las Vegas, for another back-to-back weekend with a national and divisional event. The national didn't turn out as planned as he was dropped out of competition in rd2 in both classes, but the divisional would turn out to be a better weekend with a semi final finish in both.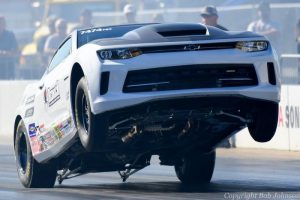 With the exception of a divisional event in Fontana, CA just before memorial day, where Lamb was again packed up unusually early, we wouldn't see his cars out again until just before the 2nd event of the western swing in Sonoma, CA at the end of July. From that point on at the next 5 events Justin was pretty much automatic, reaching the final at every single one and sometimes twice. He started out his final round streak by getting the win at Sonoma divisional in Super Stock, and also grabbed 73 points with a semi final in Stock. Then staying for the national where he would park the Stocker and bring the Super Stocker to a runner up finish, before capping off the western swing at Seattle, WA with a runner up finish in both cars. Conveniently the Seattle divisional was 2 weeks after the national, where he would be in another final round in the Super Stock entry and would capitalize with a win and add a 95 to his growing point total. But the stretch was not over there, as a divisional event in Woodburn, OR was in his sights a month later and Lamb would accomplish yet another great feat in his career as he "doubled up" grabbing the title in both Stock and Super Stock.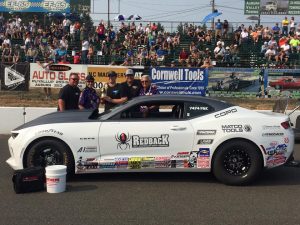 At this point in the season Lamb would be all claimed out in Super Stock, he would eventually run 3 more events to end his season getting to rd4 at each of them, but none of them having any barring on his national score. In Stock, Lamb would follow up Woodburn with a quarter final finish at Salt Lake City, UT divisional, giving him 1 more national event and 1 more divisional event to better on. And as winners do, Lamb would take advantage of that opportunity as he went to Las Vegas national and took home the win and another 105 points. With that win Lamb ending his point total in Stock at 678, and with a huge 692 in Super Stock, both of those scores would turn out to be enough for his 3rd and 4th World Championships.
Photos By – Auto Imagery