David Rampy 2017 Comp National Champion
As one of the sports all time greats, sportsman racer David Rampy has 95 National event titles to his name, double digit divisional championships, and is now a 5-time NHRA Lucas Oil Drag Racing Series Champion. Rampy's season started out in Gainesville, FL with the divisional and national event back to back, giving racers a 2 for 1 tow. And for Rampy it turned out to be very beneficial as he won both events, earning him 190 quick points. Unfortunately for the competition, it didn't stop there as Rampy went on to Cecil, GA for a divisional 2 weeks later and won that event as well.
After starting out 3 for 3 Rampy's luck fell short at the 4-wide national event in Charlotte, NC when he was dropped rd2, giving him an eventual throw away 42 points. Over the next 7 events Rampy would drive his trusty Skillman-Auto backed '32 bantam roadster to wins at Atlanta, GA divisional, Chicago, IL national, and then immediately after Denver, CO national. After these events, it brought us about halfway through the season with Rampy having run 6 national events and 3 divisional events, giving him a 540 point total so far, with 2 divisional races to add.
Following the win at Denver, CO he decided to opt out of heading to Sonoma and Seattle to complete the full swing and head over to the double divisional event at Topeka, KS. With a 3rd round and semi-final finish at Topeka that added another 126 points, fulfilling his "allowed" races with 3 nationals and 5 divisional counted. After a quarter final finish at bowling green divisional and going to 3 more national events that couldn't be counted, he would head back to GA for a division event at Reynolds and get back on track with a 85 point win.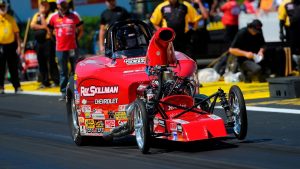 With Rampy now heading out west for his final 3 events of the year, he would start out at the Vegas national then the Vegas divisional for his final claimer, his 8th divisional. After whittling his way through a tough west coast field, Rampy was lucky enough to come out with another win to add 85 to his score and putting an exclamation mark on a near perfect year. With Rampy spreading his races out of the course of the year he was able to start hot and end hot. By not max out his claimers early in the year, Rampy held his own fate as the year went on, bettering his score little by little up until the last few races. With 8 races counted to his score (3 nationals, 5 divisionals), Rampy was victorious at all 8 of them counted in his final score, giving him 710 points and his 5th Championship.
Photos By – Auto Imagery