Right On Track with Taylor Iacono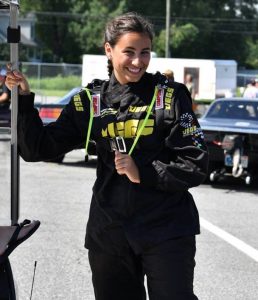 This past season of racing was a dream year for some, or a year of struggles for others. At the start of the 2017 season I talked with Taylor Iacono. You may have heard of her from her past article on here, or have seen a girl in a black S10 with an infectious smile, and you can tell from a mile away it's Taylor. Since we've last talked to her, she surely has made a name for herself, the truck disappearing from all black, to full of sponsors.
Early into the season is where her success began to take place. Managing to go a couple rounds in the early part of the season, her big win was teaming up with Burnyzz and joining the Fearless Racing Team at the Epping divisional. Then came Atco Dragway, a place where she pretty much grew up, wanting to bring home the Wally from there more than anything. Bowing out to Eddie Brooks in the fourth round going -.018 red. With her performance earning another sponsorship from Quik-Latch. Then moving on to Cecil and Englishtown, with both of them coming to an end on race day Sunday. At Cecil taking out one of her greatest teachers, her uncle Shawn Fricke. With points being wrapped up, she finds herself just out of the top ten, sitting eleventh in Super Street in Division One. A fantastic rookie year for her.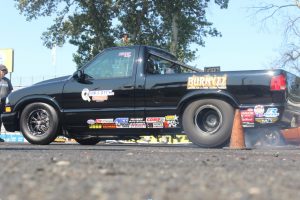 Having good race performance helps get sponsorships, but personality plays a huge role into it. From racing with her for the past year, you learn a lot about a person. First of all she is very intelligent, marketing herself in such a way to greatly grow her network of opportunity in the Drag Racing World. A natural born leader is also a big part of her, even at the sportsman stage, younger/future racers looking up to her. Confidence, and just standing out as the person she is, being herself and spending her life exactly how she would like. With those attributes she continues to pick up sponsors throughout the winter, recently getting onto the Lucas Oil Race Team. Not to mention her long time sponsors Accelerated Travel and C2 Competition Converters continuing their support.
What does the future hold for Taylor? For next season she is coming out with more horsepower, she is hoping to be able to run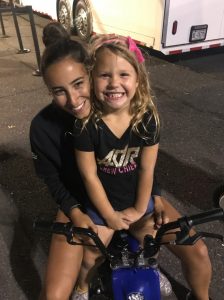 in Super Gas at a few National Events next year. She also hopes to follow in the footsteps of her aunt and good friends, and in the future run in Top Alcohol Dragster. She is, in my opinion, one of the upcoming stars when it comes to the NHRA, and her success this year speaks upon that statement. I named this article "Right On Track" with Taylor Iacono because of the movie "Right On Track" about the Enders Sisters. With sister Tori, these two are a spitting image of the movie, and I'm sure will end up in the same outcome. She will surely be shooting for the championship next season, and I would suggest keeping her on your radar, the sky's the limit with her love for racing.