Why do we race?
I show up at the racetrack with two things on my mind and that is to "I can't wait to go fast" and to "live it up." What do I mean when I say, "live it up?" When I say, "Live it up", I'm meaning, have fun. Like most, the racetrack is my favorite place to be. When the outside world asks me why I enjoy it so much, is for these certain reason, that pertain to most racers I've talked to. From the age of 15 years old all the way up to 70+ years of age.
Why do we race?
We race to race. The main reason we show up to the track is to race. Nobody gets into racing because they want to become rich and famous, especially NHRA Sportsman Racing. We race simply because we love racing. And saying that to someone of the outside world that you just love it, is simply such a broad statement that they can't seem to understand. When you say it to a racer their engine just starts running in their head.
We race to race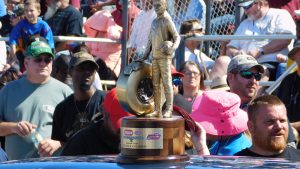 , but we also race to win. Winning a race in today competition is one tough, tough task. From Summit Racing Points Series, NHRA Divisional and National Events, and the big money races you better be on your game. Pretty much as close as you can to perfection is key to taking home a title. The competition is what makes me and many others keep coming back. There is nothing better then a close race (with the electricity popping up in your lane) or if it doesn't, the fire in your body that starts leading up to the next race. Then comes the glory of the infamous win. Simply is something you can't really explain, with so many emotions and adrenaline flowing through your body, the glory of winning is simply the best feeling ever, as I recently found out.
We race to get away. For some its escaping a stressful workplace, a retirement activity, or the younger racers find themselves playing a little hooky from school. Many go on vacations to fancy places, but we find ourselves traveling hundreds of miles a season, for what many like to call it "their mini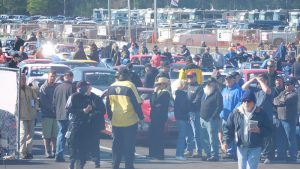 vacations." These mini vacations are so valuable to us, making memories that will last a lifetime.
Making memories that last forever is a huge part of racing, the other giant part is the people that we make those memories with. More than we realize you find yourself with these people more than your own family. Considering these special people your extended family, spending holidays and special events with them. Making lifelong friendships. The other amazing thing about racing is that it is such a family activity. Having generations of family together, for countless weekends of their life. Growing up and spending their whole lives at the track, together.
I have been talking to many racers about this topic both young and older. And the reason they race is then emphasized about the people they have met, and the time they get to spend with their racing family. How they wouldn't replace the time with these people for anything else. That's why we race, and realize no one stated anything about the money they win.