Auto Club NHRA Winners
Pomona 2 Recap
With the season finally getting wrapped up at its last stop on the 2017 NHRA tour, it again brought us to sunny Pomona, CA for the 53rd annual Auto Club NHRA Finals. This event usually attracts people from all over the country, 1 because racers need to get there last "fix" in before cold temps and the months of offseason hits. And 2 because the following Monday is the championship banquet, so anyone who is a top finisher would get a 2 for 1 tow. Meaning they come and race the event, then head over to the banquet the following day. This was the case for Austin Williams who is the 2017 Super Comp Champ and decided to make the tow with both racecars and ended up in the winner circle in Stock. For the last race of the year, everything went as smooth as it could with all categories getting there scheduled time trials and qualifying done for round 1 Friday morning.
Most World Champions were crowned by the end of first round after it was known what drivers that were still in contention made the tow or not, with the exception of 1, Super Gas. That would come down to just 3 little points as Chris Cannon went up for his rd2 matchup against Larry Bradshaw, if Cannon won he was the Champ, if not John Labbous would be the Champ. In a tight race, unfortunately Cannon fell short and the big trophy would be going home with Labbous for the first time in his very accomplished career.
That is all for 2017, it is now time for teams to tear down, rebuild and come back bigger and better for 2018 to turn on more and more win lights, because after all everyone knows it's all about that Wally!
Comp: Dan Fletcher over Tom Mettler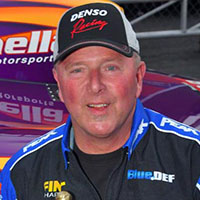 Fletcher ends his unusual Comp drought with Rick Braun's trusty Cobalt for #102. Fletcher now has 17 wins in Comp but most of those coming in '07-'09 when he finished top 5 in points. After those successful years, he now only drives Comp 3-4 times a season, so wins are hard to come by. With only 1 hun separating these 2 drivers in qualifying, in the final Mettler was down .16 on index, with Fletcher being down just .06. Fletcher was out of the gate first with a .035 light, going after the 8.56 on the boards, Mettler was right behind him with a 7.91 index accompanied by a quicker .030 light. But at the end Mettler's 7.399 just wasn't enough to go around Fletcher as he stayed ahead for the win running 8.022.
Super Stock: Robert Cruzen over Jimmy DeFrank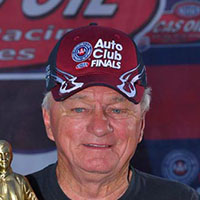 Cruzen gets by left coast Super Stock hitters such as McClanahan, Lamb, and DeFrank in his quest for his 1st ever National event title. DeFrank came into this final with 19 wins and 15 of them in Super Stock and he would be giving chase with an 8.80 dial. Cruzen nails the tree with a .007 light and runs 9.344 on the 9.33 dial, leaving DeFrank ineligible with a .046 light and running 8.825, .025 over his dial.
Stock: Austin Williams over Chris Stephenson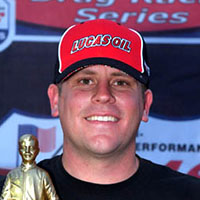 Williams ends the year with his 12th Wally and 8th in Stock with a MOV of .000. Williams was away first in his '72 Duster with a 11.08 painted on the window and a .025 reaction time, less than a bulb later Stephenson would swap feet with a .045 reaction time and a 10.64 dial. As they approached the finish line Williams dumps to be dead on 0 to his 11.08 dial, giving him a .025 total package, while Stephenson ran under by 2 hun (10.620) trying to get there. The stripe was in fact all zeros as both drivers package mathematically left them with .025, but Stephenson ran under to do it, so Williams was the automatic winner.
Super Gas: Steve Parsons over Mike Wiblishouser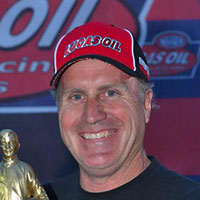 Parsons also gets his 3rd win as Wiblishouser red lights the race away. Parsons would have been hard to beat as he was .011 on the tree and just missed the index by running 9.895 on the 9.90 index. Unfortunately Wiblishouser's day was over before he went on the throttle stop as he lets go -.015 too soon, giving Parsons the red light win.
Super Comp: Bobby Dye Jr. over Tanner Theobald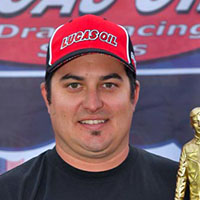 Dye really knows his car, as he runs dead on the 8.90 index 5 out of 6 rounds this weekend for his 3rd win. In the final, these drivers were separated by just .002 at the starting line with Dye having the slight advantage, .022 to .024. And at the end Theobald had just a .002 window to get inside as Dye runs dead on 4 to the 8.90 index, giving him a .026 total package. Theobald got to the stripe first by .018 but ran under in doing so at 8.884.
Photos By – Auto Imagery