NHRA Toyota Nationals – Vegas Winners
Vegas 2 Recap
The 2nd to last stop for the '17 NHRA National Event tour was back to Las Vegas, NV for the Toyota Nationals, which looked to be a great place for any drag racer to spend their Halloween weekend with warm weather and no rain in the forecast. Time trials were scheduled to begin Thursday at 8am, as usual with stock, then to have time trials run to completion, so the fields would be set for Rd1 Friday morning. Class eliminations for Stock would also be taking place on Thursday after the time trials, with the class finals to be completed thereafter on Friday. Another Las Vegas norm would have to be that every sportsman class was at max capacity and then some, with multiple people scouring the registration site hoping for someone to drop out so they could enter, myself included! I'm not sure if it's the city, facility, or the weather that makes people want to attend so badly, but at a track that has enough parking for 100 cars in each class, it might be something for NHRA to look at opening the fields up to more than 75 entries.
But at the end of the event, D7 usual's such as Lamb, McClanahan and Torres would be victorious and take the momentum into the divisional and then the final event of the year, Pomona. So until next time Vegas, where again in 2018 there will be 2 National events, with hopes for potentially having that 2nd 4-wide race for the NHRA.
Comp: Greg Kamplain over Tom Mettler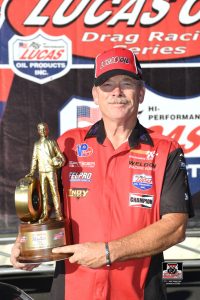 Kamplain gets lucky #7 in his 11th career final round appearance. Both of these drivers came into the final round down CIC, to the point where you would think the winner would need to take a permanent penalty to win the race. Kamplain with the 7.50 index, down .09 on the weekend and racing out of the #4 qualifying position would give chase to Mettler with an 8.05 index, down .12 from where he started the weekend and racing out of the #6 qualifying position. And the race was over for Mettler right as the truck moved as he turns it -.002 red, Kamplain was way late with a .123 reaction time, but none of it mattered as the win light was on in his lane.
Super Stock: Ryan McClanahan over Darrell Dietz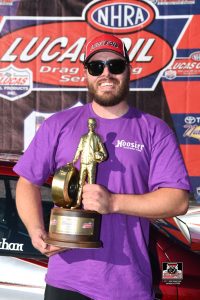 McClanahan wins his 7th National event Wally as first time finalist Dietz goes red. Dietz was leaving first dialed 8.97 to McClanahan's 8.73, and may have let his nerves get the best of him as he turned it -.020 red. McClanahan was letting go of the button 2 tenths later with a .021 light but had his win light on before his Cobalt even moved.
 Stock: Justin Lamb over Randi Lyn Shipp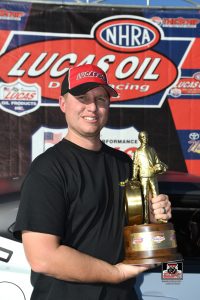 The dream weekend and season continues as Lamb collects his 18th National event win, while locking up the Championship. Lamb needed to get by round 5 of competition to secure his Stock Eliminator Championship, and did so with a .000 perfect reaction time as Scott Burton turned in red in front of him. This Championship means Justin is now a 4X World Champ and also the 2017 Super Stock Champ, being only the 3rd driver to ever win 2 Championships in a single season. But none of that "hype" hindered his ability to focus and finish the job this weekend, as he pulled up to the final in his brand spankin new COPO Camaro dialed in at 9.84 and chasing after the 11.03 of Shipp. Shipp was away with a .044 light, giving Lamb about 3 hun advantage with his .010 light. At the finish line Lamb would come out on top of a double breakout as Shipp ran way under her predicted 11.03 dial at 10.961, while Lamb ran 9.831, only putting him under by 9 thou and giving him the win.
Super Comp: Marko Perivolaris over Mark Potts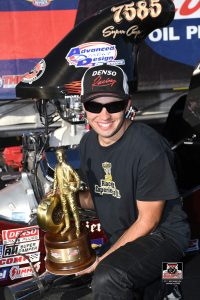 Perivolaris now has 2 National event wins and still has a glimmer of hope at a National Championship. Both competitors had a great spread of reaction times coming into the final round, being between .008-.023 combine in the first 6 rounds. But unfortunately Potts picked a bad time to miss the tree as he is .049 to a .014 for Perivolaris. After 1320' the win would go to Perivolaris as he runs 9.062 on the factored 9.05 index, Potts made the right choice with a hard drop to run 9.080 but left too much room at the starting line for Perivolaris.
Super Gas: Val Torres over Tanner Hiatt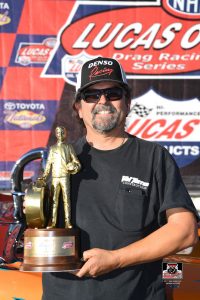 In an all D7 final round match up, Torres comes out on top and gets his 6th Wally. This race was going to be good as the Torres family is always deep into rounds, as well as Hiatt with both of his cars and is coming of a divisional win a few weeks ago. Unfortunately it was over before it started as Hiatt clicks it 2 little ones cherry handing the win to Torres with a .024 reaction time, then both drivers are out of the gas by 1000'to try and save on some parts.
Photos By – Auto Imagery