Kevin Robb… A Family Win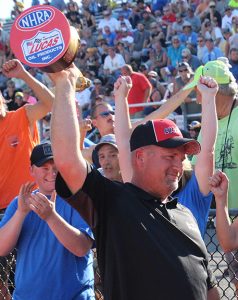 The 2017 season of racing has almost come to an end, for some drivers this season has been one to remember. This is the case for former comp racer Kevin Robb, now piloting two cars. One is Super Gas and the other in Super Comp. Winning his first National Event at Old Bridge Township Raceway Park in 1993 and also winning comp at Maple Grove Raceway in 1997, with that being said he has not won at National Event in 20 years. Lighting up the last win light at a National Event, is one very tall order. Entering the Summernationals back in June, Robb was set out to capture a Wally.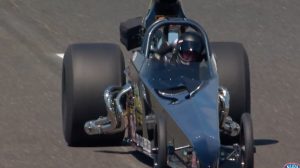 Robb found himself racing on Sunday at the 2017 Summernationals. With that being said this did not come easy for him. He was fighting with delay box issues in his dragster the whole weekend, this becoming a really big factor on Sunday against racer Rich Leone. When returning to the line from his burnout, he saw that his delay box was blank. Without a delay box in a Super Class, that is pretty much making you a duck out of water. Robb being an experienced racer, he was going to stop at nothing to win the round. Having to restart his car not once, but twice, to finally get the box to stay on long enough to get down the track and turn on the win light in Super Comp. Fixing the delay box for the final round, a pesky fuse connection was the problem. Putting him in the final round against Shawn Fricke, another tough racer. Robb won on a holeshot, 8.920 to 8.911, after taking a .027 to .054 lead at the Tree. Seeing that little white light pop up on his side, and throwing fist pumps all the way down the shut down. He did it, snagged himself another little gold man.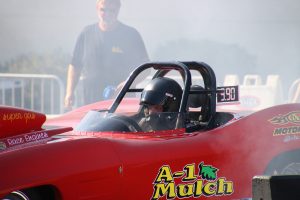 Rewind to this past weekend, the NHRA was at Maple Grove Raceway for the Dodge Nationals. With temperatures peaking 91 degrees on Sunday, it felt like we were back at the Summernationals, with the weather, and Kevin Robb racing on Sunday once again. This time in Super Gas in his Red Corvette roadster. In the semi-final round Robb faced off with heavy hitter Mike Sawyer. Sawyer .033 on the tree to Robb's .010, Sawyer broke out trying to make up the difference running 9.884 to Robb's 9.941. That places Robb in the final, against Ray Sawyer, Mike Sawyer's father.
With Robb's whole family attending this event, he wanted to capitalize on this final round. Being down on the starting line watching this race unfold, you could tell Robb absolutely blistered the tree with a stellar .007 light to Sawyers .025. Down track Robb didn't let up, running an 9.899, almost putting together a .007 package in the final round to Sawyer's 9.892. With that being said, Robb's win light came on, and capturing his second National Event of the season, at the same place he did it at 20 years ago. His family being able to live the moment on the starting line this time, bursting out in joy after they saw their father's and husband's win light pop up. I was there to capture the moment, and obtain one of my favorite pictures I have captured. Congrats to the Robb Family on their stellar year of racing.