Chevrolet Performance U.S. Nationals Winners
U.S. National Recap
The
63rd Chevrolet Performance U.S. Nationals is now in the books. You could not have script it any better. With the weather for the first 5 days being almost perfect, and warm but not overly humid on the final day, racing was at its best. Track conditions were great most of the week, but Monday was tough for some of the Factory Showdown cars, but that's to be expected as 1000's of runs where made over the 6 days. The week started at Indy as it always does, getting 700 plus rigs stacked in the holding lots before getting parked is sight to behold.  Parking was set to begin on Tuesday, which was a departure from years past. With many racers worried about getting in on Tuesday to get ready for Wednesdays first round of qualifying, the tension was high. When Tuesday came, all the fears were gone. The NHRA staff did a masterful job getting the 400 plus rigs parked that were in the stacking area on Tuesday in a timely manor. Getting credentials was also a breeze. Bob Lang was out early giving out the racers paper work. The credential line was a none issue, there were three staff members along with Dave Ley to keep things running smooth.
Wednesday started off with Stock qualifying, many racers were holding back there performance for Thursday's class. The number one qualifier in Stock was B.J. Graham in his U/SA '76 Mustang. The U/SA cars was among three of the top five qualifiers.  Graham also got the U/SA class win. In Super Stock it was Ernie Neal taking the number one spot in his GT/N '05 Cavalier.  Tech in inspection known as tear down was in full effect despite rumors that NHRA was going to have no tear down. The two dozen Stock and Super Stock cars torn down were all legal and competed in their eliminator.
Super Classes made up about 200 cars, light for a typical Indy, but great racing as always. The winner in Super Gas, Kevin Adams had a tough week. Hurting his engine during the week and then rebuilding it in his trailer. It was an emotional win for the family and it was Kevin's first National event when. Super Comp was full of heavy hitters. Racers like Bogacki, Richardson's, Fletcher and the list goes on made winning this class as tough as any big buck bracket race.
In Comp we had a 41  cars entered for a 64 car filed. Although it was a little light it was no less exciting. With the usual fast cars here at Indy, Frank Aragona took the number one spot.  With a dozen or so cars taking a hit on their index for first round, getting through the rest of the eliminator was going to be tough. Qualifying at the bottom of the top half of the field is where you like to be. For the winner and runner up, planned or not, it worked out well for both drivers.
In The factory Stock Showdown class, there was 22 entered for a 16 car filed. There would have been more if not for Hurricane Harvey who wrecked havoc in Houston and the surrounding area. The number one spot was taken by David Barton, arguably the quickest car of the class this year. David went a 8.109 at 165.31mph with Steve Bell taking the number 2 spot with a 8.126 at 168.39mph, top speed of the race. Both drivers would meet in the final. The class is growing fast, and word has it will be bigger and better next year.
The stands were packed on Saturday and Sunday, with Monday being a little light because of the holiday. All in all it was an exciting week of racing. With fans poring through the pits for the best car show on earth (The Sportsman Racer) and some of the best sportsman racing of the year.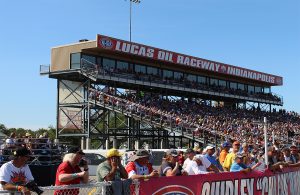 Factory Stock Showdown : David Barton over Steve Bell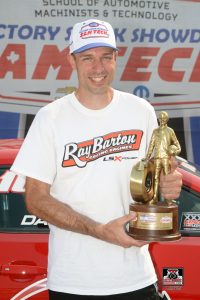 With the top half of the filed separated but 12 hundreds and the uncertainty of 1200 plus horsepower cars on 9 inch tires, it was anyone's race. Barton was the number qualifier through the 4 rounds of qualifying with Bell right behind him. Bell's speed was impressive with 168.39. With the top half the field made up of COPO's, it would look as if Chevrolet Performance would get a win for the U.S. Nationals. Dodge was here with two Drag Packs, Jeff Turk and Leah Pritchett. Ford Performance was out in force with 9 cars.  Chevy would dominate with 3 cars left by the semi finals battling it out with the lone Ford driven By Kevin Skinner. Barton ran a 8.18 to Bell's 8.214. Barton was .058 on the tree to Bell's .o40. It was not enough for Bell as Barton was two quick. This is Barton's 5 Factory Stock Showdown win and he now leads the points going into final race at St. Louis next month.
Comp: Brad Plourd over Mike Farrell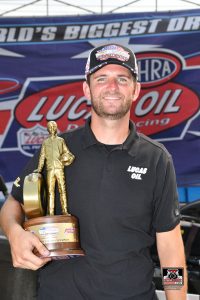 Brad Plourd is in a new ride this year, he tells us its a blast to drive and he is having fun. Mike Farrel took a few cic adjustment to get to the final as did Plourd. Farrel was driving well but went red in the final giving Plourd the win. Plourd was also driving well in his new ride and took home his 20th National event win.
Super Stock: Kevin Helms over Marion Stephenson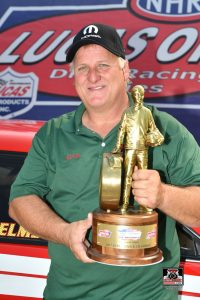 Kevin Helms has won the U.S. Nationals twice in Stock and has been driving great all weekend. Marion Stephenson in his new ride this year is also having a great weekend. Helms wheelstand's his way to his 3 Indy win with a .028 light and 22 thou over his dial to Marion Stephenson's .051 light and 27 thou over his dial.
 
Stock: Larry Gilley over Darrell Steiger

Larry Gilley and Darrell Steiger face off in a heads up battle in E/SA. Steiger took the class trophy early in the week and had a slight performance advantage. Gilley had the better light, .022 to Steiger's .032. Steiger was quicker by 3 thou, but the math was not there as Gilley takes the stripe by .0077.
Super Comp: Ray Connolly over Edmond Richardson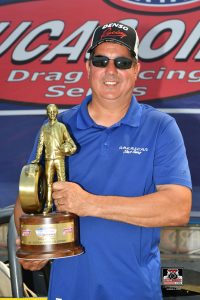 Super Comp arguably had some of the toughest drivers competing at Indy. Ray Connolly has been on the tree all week as was Edmond Richardson. Both drivers were pedaling the stripe. Richardson had the better light, .o13 to Connolly's .016. Connolly pedal his dragster to 31 thou over, while Richardson was 37 thou over. After all the numbers were punched, it was Connolly with .0033 stripe, a mere 10 inches for the win.  Connolly picks up his 14 NHRA national event win,
Super Gas: Kevin Adams over Samantha Coughlin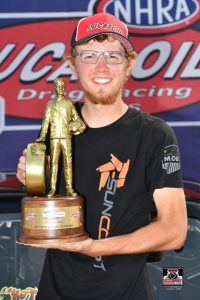 Kevin Adams over came a tough week at Indy during time shots with engine issues. Adams averaged a .014 tree as the Nova performed flawlessly during the eliminator. Samantha Coughlin was also driving well, but the final was all Adams. Both drivers were 2 hundreds over, but Adams .006 light left little room for Coughlin to get in on. Adams gets his first NHRA national event win.
Photos By – Auto Imagery