David Barton drove to an 8.11 in his 2017 COPO Camaro to lead qualifying in Holley EFI Factory Super Cars, and was strong through the final round. There, he met up with Carl Tasca and his 2016 Mustang Cobra Jet, and after riding out a wheelie, he took the win light with an 8.12 to Tasca's 8.19.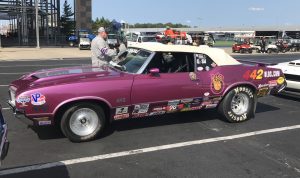 In the ever-growing FSC Stock/Super Stock presented by E3 Spark Plugs, Dennis Breeden ran to a 9.48 in his Drag Pak to set the pace, but Daryl Bureski blasted to the win in his Olds with an 11.45 over Ricky Pennington, who pushed his Cobra Jet to a 10.66.
Danny Jones stopped the clocks at 10.50 on his 10.50 index in his Coronet in ATI Performance Nostalgia Super Stock qualifying, but in the final, Doug Wright drove his Belvedere to a 9.30 and the win over Rick Neumeyer, who drove his Fury to an 11.06 for the runner-up.
Brad Spires was 10.50 on his 10.50 index in his Nova to take the top spot in Detroit Truetrac Nostalgia Muscle Car, but reigning class champion Andy Warren won with a 10.03 in his Caprice over Carl Gilbert, who was 10.55 in his Nova.
Additional special components of this race were the Ford Performance Cobra Jet Showdown presented by Diversified Products Marketing, which Paul Roderick won with a 9.07 on a 9.04 over Rick Rodgers, who turned in an 8.90 on an 8.92. John Calvert won the Cobra Jet Challenge.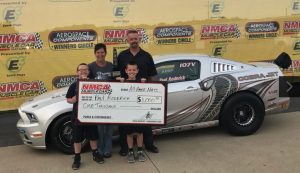 Season championships are on the line at the not-to-be-missed conclusion to this year's NMCA race season, the 16th Annual Scoggin-Dickey Parts Center Raceshop 16th Annual NMCA World Street Finals, Sept. 21-24 at Lucas Oil Raceway in Indianapolis, Indiana.