Jessie and Dylan Biondo, The Next Generation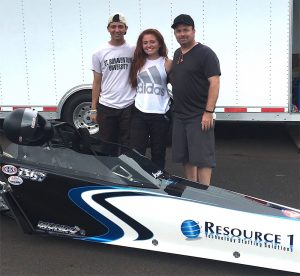 The youngest racers of the Biondo family have been hitting the track for a couple years now. Their dad, Sal Biondo has taken a backseat to his own racing program, but instead of less racing, he is  racing more than ever as the crew chief for Jessie and Dylan. Two junior dragsters keeps him very busy during a weekend of racing, although he does find time to race now and then. Racing is such a big part of life in the Biondo family, but Sal wants to do things a little different for his kids. He still wants them to live a normal life, being able to play sports, not being away every weekend and not having to miss important games or school events because of racing. Sal still wants them to be able to enjoy racing, and he wants to give them the opportunity to make the same great memories racing that he did.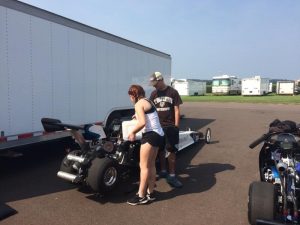 Dylan told us this was his last year driving a junior. He starts college this year, giving him only a few more weekends of racing. Although college will take up a lot of Dylan's time, he would like to step up into his dad stocker next year. For Dylan, racing has been a big part of his life for the last six years. Dylan tells us he is pretty competitive, and the guys and girls at Numidia give you no easy round wins. Dylan and Jessie strictly race at Numidia Dragway because of the ease it allows for the whole family to be there. Not having to follow a strict schedule or travel makes Numidia the ideal track for the Biondo's. Racing on their own schedule means a lot to the family, and most importantly it makes it fun.
Jessie has been racing for about three years, starting at the same age as her brother. Jessie, now 15 tells us that she loves racing with her family. She misses her brother when he can't make it to the track, its all about the family she tell us. Similar to her brother, Jessie is also very competitive in sports. Soccer and racing being her favorites, its the competition that makes it fun. Jessie's main goal when racing is to learn, but always have fun, no matter if you win or lose. She has many good teachers in her family, being able to get advice from her brother and dad whenever she needs to is a big plus. Jessie got her first win a week ago, to say it was a big thrill puts its mildly. Jessie knows how tough it is to win and is very humble, "one weekend your a hero, next weekend your a first round runner up". Jessie also sees herself in a Stocker or Super Stocker in the future, maybe even a Pro Stock bike. Family and fun is the only focus at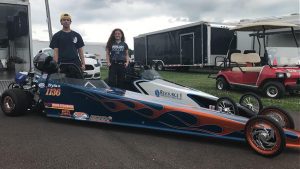 hand when they take to the track. Making memories that will last with each other for a lifetime is what its all about. These third generation drag racers are keeping the Biondo dream alive…. racing,  having fun, and family.
To the Biondo's, family means a lot. Bob DiMino, owner of Numidia Dragway makes you feel like family. Bob lets them keep their racing operation at the track. Getting to the track and just dropping the trailer door and you are ready to race, it doesn't get any better. Jessie is very grateful to Anthony Bongiovanni for letting her run his daughter Michelle's Jr Dragster this season. As Jessie puts it, " My new whip runs great"