Bristol – Thunder Valley Nationals Winners
Bristol Recap
"There is one thing you can count on at the Thunder Valley Nationals at Bristol hot and humid, but always great racing." With low car counts at the last few races and quotas for this event being set at only 55 entries for the majority of the sportsman classes, it was good to see the racers show some support and meeting or exceeding these set quotas. Racing began as usual with sportsman classes hitting the track first for their time trials and class eliminations, but Mother Nature would get the best of the event later in the weekend with multiple rain delays. The NHRA staff did an excellent job cleaning up and prepping the track to make it ready each time cars were called to the lanes and eventually the race was completed as scheduled on Sunday.
Super Stock: Marty Rinehart Jr. over Greg Stanfield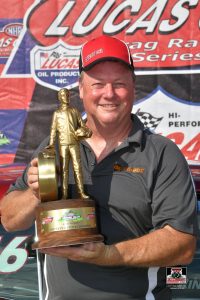 Rinehart Jr. wheels his beautiful '69 Camaro to his first ever National Event win in his 2nd ever final round. Rolling up for the final Rinehart Jr. had a 9.96 dial and was going to be leaving first by just over a second to Stanfield's 8.71 dial. The reactions times were close with Rinehart Jr. having a slight advantage with his .020 to Stanfields .030, but at the end both competitors ran 2 hun over their dial ins, giving Rinehart Jr. the .011 MOV.
Stock: Jimmy Hidalgo Jr. over John Leach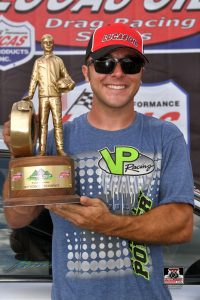 Hidalgo Jr. holds off first time finalist Leach for his 2nd National event this year in Stock and 6th overall. Coming from the #1 qualifying position with a 10.878 in F/SA trim, Hidalgo Jr. doesn't hold back in the finals with a .005 reaction time chasing the 11.01 dial (eventually running10.990). Leach was a little too quick and knocks it -.011 red, but might have been in trouble even with a green light, running 10.790 on the 10.88 dial.
Super Comp: David Morris over John Labbous Jr.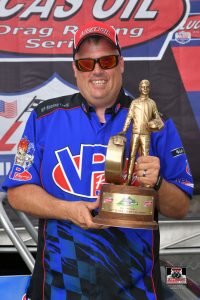 Morris ends his weekend with an impressive .007 total package which resulted in his first National Event win in his first ever final round. Morris had his car dialed in running dead on 2 to the 8.90 index with a .005 light in the final. Labbous, who has been on kill lately with multiple wins and runner up finishes already this season, was .013 on the tree and ran just under the index at 8.891 taking .003 stripe trying to run Morris down. But unfortunately was mathematically ineligible even with a stout .013 reaction time.
Super Gas: Steve Furr over Jacob Elrod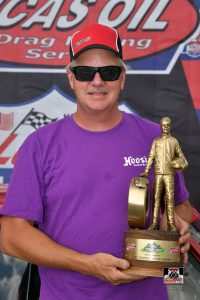 Furr now has 6 total National Event wins, 3 of those coming in Super Gas. Furr made a great pass being .008 on the tree and running 9.914 on the 9.90 index for a .022 total package. Elrod was almost shut out being .021 on the tree, but needed to take .001 to win and took just a little too much and ran 4 thou under the index at 9.896.
Top Sportsman: Clayton Roberts over Jeffrey Barker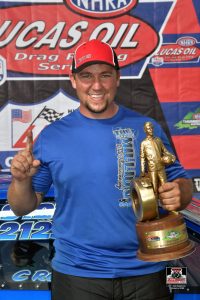 We have another first time winner as Roberts takes .001 MOV and takes the trophy home. Roberts was .010 and ran 7.542 on the 7.52 dial, Barker made a great lap being .019 at the start and ran 6.704 on the 6.69 dial, unfortunately that wasn't enough and gave the win the Roberts.
Top Dragster: Aaron Stanfield over Angie Travis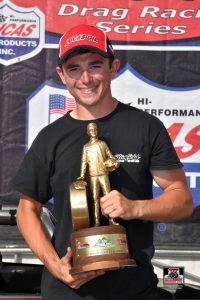 Stanfield collects his 2nd National event win, driven by a .011 total package. In the fastest bracket race of the weekend, Stanfield was given a slight head start dialed in at 6.36, Travis was dialed in at 6.28. Stanfield left with a .001 light and gave Travis no chance to catch up with his .025 light. At the end Stanfield ran 6.370 on that 6.36 dial, Travis was dead on 8 to the 6.28 dial but was no match for Stanfields .011 pack.