Taylor Iacono And Her Murdered Out Chevy S10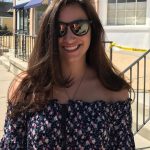 Taylor Iacono started fueling her blood with the drag racing bug behind the wheel of a Jr. Dragster at the age of eight years old. She is one of Division One's newest and youngest drivers at the age of 18, in the Super Street category. She is wheeling her slick Chevy S-10 in the class. Taylor is now a senior in high school and will graduate in the next few weeks, and plans to study special education in college. The passion the new generation of drivers have to succeed in life and in the world of drag racing is immense, and Taylor is a prime example.
Starting at eight years old she took behind the wheel of a Jr. Dragster. Taylor said this about her junior dragster career, "It was the best experience ever, I learned how to win and how to lose, and how to make friendships that would last forever." This quote from Taylor is truly amazing and catches the full essence of what drag racing is all about, having fun. In today's world some racers need to be reminded that having fun is what it's all about. Something was always in the back of her head though, she knew she always wanted to go faster. She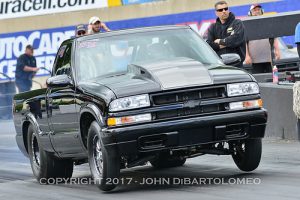 also knew that she wanted to run Super Street like her uncle Shawn Fricke, reigning division one champion. So the search for the car began late last race season. Searching for a car for Taylor to run next season, they came across a 99' Chevy S-10. Stating that, "she just fell in love with the truck." Right after they acquired the the truck, it went through a complete overhaul, giving the truck all brand new equipment. Her father Tony Iacono and uncle Shawn Fricke did the overhaul, having safety as their number one goal. The truck is powered by a 410 small block that her uncle Lee Ream built. The truck is now complete and it is one stealthy looking S-10.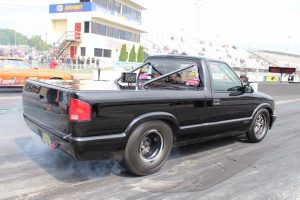 The learning curve is immense, the second item on the list to having a car is getting your license. Hopping into a full size racecar means more power, a lot more power. Taylor started her shakedown runs in her uncle's Firebird last year at Numida. After the truck was completed, they rented out Atco Dragway about a month ago and she made 13 passes getting comfortable behind the wheel of the S-10. The hardest part about the change for her is getting used to the pro tree, instead of leaving off the bottom bulb in her Jr. Dragster. She is getting more comfortable on the tree and is working on improving her lights each race. Also, she is trying to figure out the very difficult top end driving. "Driving juniors everyone was running 80-85mph there's really not much difference, but driving in Super Street people are coming on me with a lot of mph," Taylor stated. With the racing season now in full swing she attended her first divisional race at Maple Grove in May. In her first round of competition she defeated heavy hitter Marty Ganjoin, if that doesn't go out as a warning, be ready, because in no time she is going to be one very tough racer. With many more years of racing to come, she sees herself moving into Super Comp/Top Dragster and eventually wants to make her way to Pro Stock. With many races left in the season, I would like wish Taylor the best of luck in the upcoming events.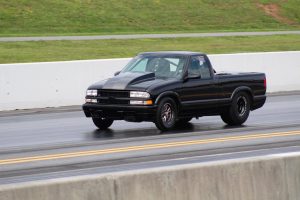 Taylor wanted to close out the article with a sincere thank you to her family, here are a few words from her. "I am very fortunate to come from a large racing family that supports me at every turn. This begins with my Mom and Dad who are selfless and make it possible for me to follow my dreams. Not only is my Uncle Shawn a mentor to me at the track, he and my dad spent countless hours rebuilding the truck to not only ensure it was safe but also competitive. My uncle Lee Ream from C2 converters built me a flawless motor & convertor. I owe a lot to my Mimi, Poppy and my sister Tori for all their support and am grateful for Jackie at Accelerated Travel for her guidance & sponsorship."
Photos by  – John Dibartolomeo, https://dragracingedge.com/photos