Blue on Blue Ford Mustang
Rusty Johnson's High-Flying 1967 D/SA Pony
W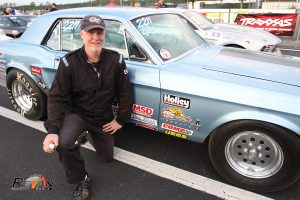 hen becoming a car guy, one of the first things we do is choose a preferred brand or model. Some guys like every make, model and color, but when they see a Ford, Dodge or Chevy they look twice or pay extra-close attention to the detail and style. For Rusty Johnson of Sharpsburg, GA it was Ford all the way, and it shows with his beautiful 1967 C/SA Ford Mustang. Rusty was brought up in a Ford family and he was a regular at the racetrack with his dad competing in the early '60s and '70s with various Fords—but mostly in a Mustang. "Dad was always a Ford guy and when I was young he let me race his 1969 428 Ford Mustang. Since then I've been hooked," said Rusty.
Rusty's latest Stang is one he purchased as a roller after seeing the add on ClassRacer.com in 2014. He parked his reliable 1967 E/SA Ford Fairlane to put the focus on the smaller and lighter Mustang. You could say he's a deep-down car guy because having just one is never enough. Once he obtained the car the decision was made to make it into a C/D stocker, so Rusty made a call to engine builder Blair Patrick of South Pittsburg, TN, to put together a 390 FE motor that's built to NHRA specs
The engine has 11:1 compression and uses components such as CP pistons, Crower connecting rods, a Bullet camshaft, Edelbrock cylinder heads, and T&E rocker arms. The transmission is a Ford C4 that was done by Steve Bramlett of South Carolina with an ATI converter. The car is currently operating in D/SA trim with an 11.55 index and running consistent 10.70s putting him to the top of the qualifying sheet. To date the best quarter-mile time is 10.40 at 126 with a 1.32 60-foot time.
Before hitting the track, Rusty took his Mustang to long-time racer and mentor Jimmy Parker of Columbus, GA to have some chassis work done. They also installed Moroso front springs and QA1 shocks, but this year Rusty made the change to Santhuffs, and now when the car comes down from the wheelstand it just plants and goes with minimal bouncing. The rear end is a 9-inch with 5.14 gears and Moser axles. Moser plays a big part in his racing program between parts and sponsorship, Mr. Johnson saying the company is "more than generous with the things that he needs". All of these pieces are stuck to the ground with his choice of Hoosier tires on the front and rear.
So far this Mustang and its owner have had great success. Rusty won an NMCA event this year and he got down to three cars at an NHRA divisional event in Atlanta, GA before bowing out to the reigning world champ Jeff Strickland. When asked if he has any future plans for his racing program or for his son or daughter to drive, it was an obvious "yes!" He stated he would love to have two cars competing with his kids behind the wheel. Rusty would like to thank all of his sponsors and people who lent a hand in putting the car together, most importantly Jimmy Parker for all the chassis work and maintenance on the car, and his long time life-partner Alicia Anderson for crew chief duties and support.
You can see this gorgeous Mustang and Rusty Johnson at various NHRA/IHRA/NMRA events throughout the year competing mostly on the east side of the country, with his next stop being at Norwalk, OH for the NHRA national event. If you do happen to see this car, go over and check it out because there is nothing better to a car guy than having someone admire your hard work, time and money and to just talk cars in general, especially for Mr. Johnson if you're talking Ford!
Photos: Evan J. Smith