21 YEAR OLD KYLE KOHR TAKES HOME FOUR-WIDE NATIONAL TITLE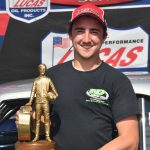 Kyle Kohr, a former –and fellow– junior drag racer, earned his first national event title at the Four-Wide National in Charlotte, North Carolina in Stock Eliminator at 21 years old. Kohr had been going to the track with his dad and uncle since before he could remember and as soon as he turned 8, he got behind the wheel of a junior dragster. Winning several ironmen events and a 2010 championship, it's safe to say that Kohr has been a heavy-hitter from the get-go.
For the last two years, Kyle has backed the 1968 4-speed D/S Camaro owned by Matt Welker. Being that it was only the second race into the season, Kohr had some trouble staying consistent on the tree. After tooling around with the clutch pedal stop for a bit, he was able to adjust it so that he could unswervingly cut a light. Once he worked out the few kinks left from winter, it was game time.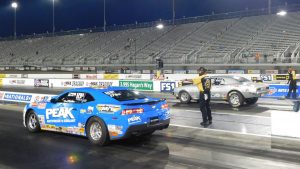 Kohr managed to take out some well-known Stock racers, like Dan Fletcher, before eventually landing in the final round. He was up against Jeff Harrington who had won the Four-Wide in the previous year. Kyle had the handicap with a 10.70 dial to Harrington's 10.13 and copped the advantage right out of the gate after cutting a .036 light to Harrington's .069. He gave it a few good whomps to close the gap and, in his favor, turned on the win light.
"Well, the Wally is definitely cool, but the most rewarding part is seeing everything come together –the car, my driving– and working for seven rounds in a row to get my first national event win," Kohr exclaimed. This win is even more fulfilling for Kyle due to the extra adjustments and moving parts that come along with driving a stick car. "When it works, it's awesome and a blast to drive, but it's definitely not easy getting it to work 100%. We're not quite there yet, but we're close. Matt is the brains behind getting it to work as well as it does; he does all the tuning. I just drop the clutch and pull the gears," Kohr told me, humbly.
It's no surprise to see that Kyle Kohr ended up in the winner's circle at a national event after being one of the stronger competitors in the northeast division of junior dragsters. Although he showed some pretty mean racing skills before modestly accepting his Wally, Kyle still handed most of the credit to the Welker family for giving him the seat time as well as his parents for always being his biggest supporters.