Bo Butner in a COPO?
The Gatornationals are in the books, but after roaming the pits we came across some interesting info.  We snapped this photo of Bo Butner sitting in Gary Wolkwitz's 2015 world champion COPO driven and tuned by David Barton. David just won the season opener of the Factory Stock Showdown with Gary's 2015 COPO. From the info we gathered, Bo might be driving the COPO at the 4 Wide coming up in a few weeks. This is the second race on the Factory Showdown tour.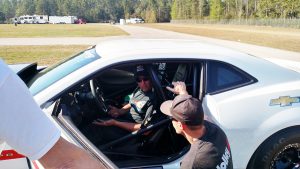 There has been great interest in this new class and Bo has been working on a 2016 Cobra Jet, but with his Pro Stock duties, he finds little time to get the project done. Bo loves sportsmen racing and is itching to get back to competing in the Factory Stock Showdown class. Word has it he would race the COPO until his Cobra Jet is done. Is the deal in the works, only time we tell. Barton and Wolkwitz are just finishing up their 2017 COPO and it will be ready for the next Factory Showdown race. The question is, now that a very competitive COPO will be sitting ready to race, will Bo be in the seat.