Bailey Battles To Win FSC Stock/Super Stock Combo at NMCA Opener
Jim Bailey may be a veteran drag racer, but his current mount, a 2010 Dodge Drag Pak, which carried him to victory in the season-opening NMCA Muscle Car Mayhem event at Bradenton Motorsports Park is brand new. Bailey finished the clean-looking white Dodge just weeks before the event, and only had a few passes under his belt before jumping into the FSC Stock/Super Stock Combo at the NMCA event.
Running in FS/D trim with a 392 engine, Bailey took on the ever-tough Doug Duell in the opening round. Bailey was sharp with an .011 light and he ran a dead on 9.83 at 133 mph to top Duell, who was .003, but ran .02 over his 10.43 dial.
On the other side of the ladder, Kurt Neighbor handed business with his ferocious 1964 427 Thunderbolt. Neighbor rowed his four-speed past Scott Libersher's 2015 COPO Camaro, he then defeated the 1995 SVT Cobra Mustang of David Lindsey to secure his spot in the money round. After his close duel with Duell, Bailey took out the Super Stock Dodge of Dennis Breeden, which set up the Ford vs. Mopar final.
Bailey was on his game, dropping a .011 light on the Ford driver (Neighbor was .096) and that's all it took for the white Dodge. Bailey maintained his lead to the stripe, running a 9.92 on his 9.88 dial, while Neighbor clicked off an 8.80 on his 8.75 dial.
"This was the second time for the car in competition, and I'm still really trying to get confidence in the car," said the former Top Fuel driver who most recently raced a Hemi Plymouth in Stock. "Anytime you win it feels good. It was great for my confidence and I'm getting more experience at dialing the car. It's a car that can make you look good," he added.
Bailey last c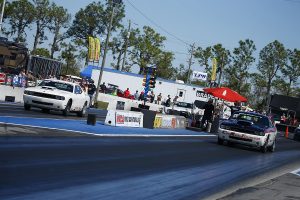 ompeted in Top Fuel in 2001, having run a best of 4.67 at just about 310 mph. "The thing I like about Stock Eliminator is the independence. I can do everything on the car and I can race it myself. In Top Fuel you need a lot of quality people and you rely on them. I find that I get the same challenge out of the Stocker.
In terms of going from a 1960s muscle car to a newer model, Bailey said, "It's a different animal compared to my old Plymouth. I went to the race and David Barton helped me a lot with the engine management. When I stepped up to the new car, he really helped me out. I was happy with the changes and I thought it may be my weekend when I got by Doug Duell who put a .003 on me. I loved running the NMCA. I thought it was very professional in tech, and the pit folks do a nice job, too. Everyone was firm and fair with a smile. People were coming up and thanking me for coming to the races. That's almost unheard of. If they are interested enough to give us a shot, they deserve our support and I'm going to run all six [races]."