Barton back on top in Gainesville Factory Showdown romp
David Barton clearly didn't enjoy losing the most recent round of the SAM Tech NHRA Factory Stock Showdown held last year at the U.S. Nationals so he decided to do something about it. Returning to Gainesville Raceway with the same COPO Camaro that he drove to three wins last season, Barton ran the table for his second-straight Gainesville victory.
Taking advantage of cool temperatures and a favorable barometer reading, Barton qualified in the No. 1 spot with an 8.101 at 169.91 mph, numbers that would hold up for low E.T. and top speed of the meet. With a packed house looking in for Sunday's final round, Barton drove the Gary Wolkwitz-owned entry to an 8.131 to defeat the Cobra Jet Mustang of Chuck Watson, who trailed with an 8.227. Barton reached the final with a pair of consistent 8.18 efforts against two-time Mello Yello series Pro Stock champion Erica Enders-Stevens and Steven Bell.
"I knew coming to this race is would be very tough; there are lots of hardcore racers here," said Barton, who has now won four of the last five races in the SAM Tech Factory Stock Showdown, including the last two Gainesville events. "We had planned on coming here with a new car but it wasn't done in time so we said, let's bring out old faithful."
With 17 entries competing for just eight spots, qualifying was fast and furious as Factory Stock racers were faced with the enviable dilemma of trying to apply well over 1,000 horsepower to the track surface on a nine-inch rear slick. Barton was followed in the qualifying order by his arch rival, Ford racer Chris Holbrook, who was a close second with an 8.109 in his Varsity Ford Cobra Jet. Other qualifiers included Stephen Bell (8.148), Peter Gasko Jr. (8.167), Erica Enders-Stevens (8.170), Geoff Turk (8.204), Todd Patterson (8.220), and Chuck Watson (8.238).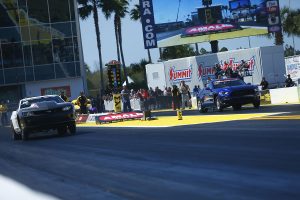 After qualifying, it appeared that Barton was on a collision course with Holbrook, but day ended after the first round when he broke an engine against Turk's DragPak Challenger. That opened the door for Watson to make a single run in the semi's. Watson, who has been at the forefront of the Ford Cobra Jet program since its inception, managed to reach the final round after wins over Gasko Jr. and Holbrook.
This season might well be remembered as the year that the SAM Tech Factory Stock Showdown finally came of age. New rules for 2017 include the use of a five-tenths Pro Tree and separate qualifying sessions. After the five-race series, which also has stops at Charlotte, Norwalk, Indy, and St. Louis, there will be a points champion crowned for the first time. At this point, it also seems like a given that the popular class will eventually be contested as a stand-alone eliminator, a move that is sure to be popular with traditional NHRA Stock racers.