Joe Santangelo, first win in Comp – U.S. Nationals Championship
Joe Santangelo, former Stock world champ, earned his first victory in Comp at the 60th annual Chevrolet Performance U.S. Nationals. Joe has won in Stock and Super Stock also, giving him a total of seven nationals wins.  Joe tells us that wining any national event is a tremendous feeling, but the US Nationals is the Super Bowl of racing, the one everyone wants to win. Driving Arnie Martel's B/SR '34 Ford at the Us Nationals was a great opportunity. Joe can't thank Arnie enough, but the same goes for Arnie. Joe's reputation as one of the best drives in division one is well known,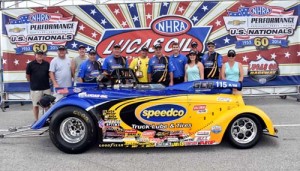 and it was any easy choice for Arnie to team up with Joe at the US Nationals.