Troy Williams, Jr. Drives to IHRA Division Championship, Runner-Up National Finish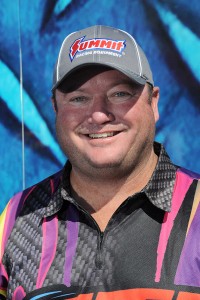 Accomplished sportsman racer and FTI Performance representative Troy Williams, Jr. is enjoying yet another successful season behind the wheel of a myriad of sportsman drag racing machines. Williams, a former IHRA World Champion and Million Dollar Race winner, has already added a handful of trophies to his overfilled mantle in 2015. In the IHRA Hot Rod (10.90) ranks, Williams took the wheel of friend Justin Cooper's Nova, which is lovingly referred to as "Deberry's Finest," and promptly drove it to back-to-back final round appearances at the IHRA Heat Wave opener at Immokalee Regional Raceway back in early February. There, he kicked off the IHRA season with a runner-up finish, then drove the same machine to victory the very next day.
That hot start set the tone for Williams' IHRA season, and on the strength of solid finishes at the IHRA Heat Wave's final event in Jackson, SC, he captured the IHRA Division 2 Heat Wave Hot Rod championship. While winning the division title is an accomplishment in and of itself, the unique IHRA Tournament of Champions format allows the top finishers in each geographic division to go one step farther. As a result, Troy was invited to compete for the world championship at the annual Tournament of Champions event in Memphis, TN.
There, the legendary sportsman competitor very nearly added another huge accomplishment to a driving resume that already makes fellow competitors green with envy. After advancing through opening round matchups with Division 4 Renegades qualifiers Dennis Clark and Reggie Lytch, Williams knocked off Division 3 North Star representative Will Crawford to advance to the final round of competition, a single round to determine the national championship, alongside longtime IHRA standout Patrick Forster.
In the final, Williams trailed at the starting line, .037 to .011 but nearly pulled a rabbit out of his hat at the finish line. He managed to cross the finish line first in "Deberry's Finest" by a scant .012-of-a-second, but broke out with a 10.890 on the 10.90 Hot Rod index, giving the victory and the championship to Forster.
"Would I have liked to win? Absolutely." Williams commented afterward. "But it's not as if we set out for a Hot Rod national championship at the beginning of 2015. We went to Immokalee and we did well, so we figured we'd try to chase the division title. To win that was a great accomplishment. The IHRA format allows us to then go and compete for the championship in a one race, winner-take-all format. We almost got it done, but I certainly can't take anything away from Patrick; he's a deserving champion."
When he's not blasting down the dragstrip, Williams is a salesman and technical consultant at FTI Performance. FTI specializes in racing transmissions and torque converters, and Williams obviously depends on the very same products that he sells customers within the competition vehicles that he drives himself. In adddition to FTI, Williams relies on quality products from several reputable manufacturers including Mickey Thompson Tires, Renegade Race Fuels, Auto Meter, K&N Engineering, Milodon, Advanced Product Design (APD), Steve Schmidt Racing Engines, and JEGS.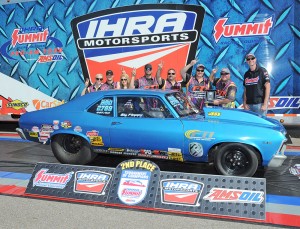 As the month of November draws near, Williams' season is far from over; he and the FTI Performance Team will compete in several of the annual Winter Series events upcoming in Georgia and Florida. To learn more about FTI Performance, visit www.FTIPerformance.com.
Courtesy Luke Bogacki Motorsports news