Adkinson Set to Battle for Southeast Division Title
Adkinson Set to Battle for Southeast Division Title with Support from Georgia Peanut Commission
Damascus, GA: Longtime NHRA Lucas Oil Series competitor Jeff Adkinson is proud to announce the addition of a new primary marketing partner for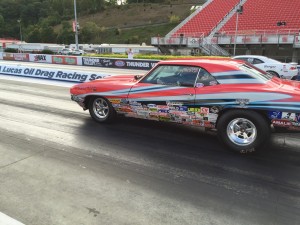 both his Stock and Super Stock entries: the Georgia Peanut Commission. The alignment was a natural fit for Adkinson, a lifelong farmer who operates a massive peanut farm in his home town of Damascus, GA. The new alliance comes at an exciting time for Adkinson and his team, as he is in the middle of a hotly contested battle for the 2016 NHRA Southeast Division Super Stock championship.
"We're really excited about this cooperative effort with the Georgia Peanut Commission," Adkinson explained. "Georgia peanut farmers invest $2 per ton each year to the commission that is used in the program areas of research, education, promotion and communication. The NHRA and the NHRA Lucas Oil Series provide a wonderful platform to promote peanuts; and we're honored to be flying the Georgia Peanut Commission colors for the remainder of 2015, all of 2016, hopefully on into the future."
The Georgia Peanut Commission is currently involved in countless promotional efforts, and has been an active marketing partner in various motorsports including the NASCAR Sprint Cup Series.
"The Georgia Peanut Commission is proud to partner with Georgia peanut farmer Jeff Adkinson. He has been a longtime competitor in the NHRA series and we are honored to promote peanuts at the races with him," says Tim Burch, Georgia Peanut Commission board member from Baker County, Georgia. "The Georgia Peanut Commission is very excited about this new opportunity and we certainly hope Jeff wins as he competes this weekend."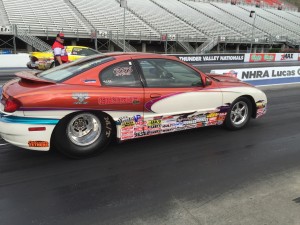 Adkinson debuted the Georgia Peanut Commission logo on both his Super Stock Sunfire and Stock Eliminator Camaro at the recent Southeast Division event in Bristol, TN. There, he turned in a strong showing in Super Stock, advancing to the semi-final round of competition before falling to Joel Warren. Warren was probably the one competitor that Adkinson could ill afford to lose to; as Warren went on to a runner-up finish, overtaking Adkinson in the Southeast Division title chase. The pair now enter the final Southeast Division event seperated by just 12 points. Warren leads Adkinson as they head to Silver Dollar Raceway in Reynolds, GA for the season finale on October 16-18.
Regardless of the outcome in the divisional points chase, Adkinson and his team will follow up that event with a trip to the west coast, where Jeff will conclude his 2015 season with appearances at the NHRA Toyota Nationals in Las Vegas (October 29-November 1) and the AAA Auto Club Finals in Pomona, CA (November 12-15). Adkinson is currently ranking 16th nationally in Super Stock, and 26th in Stock Eliminator. With a strong finish, he could advance into the top ten in both categories.
Adkinson wished to recognize his wife Amy and their daughter Kaitlyn, along with teammate, engine builder, and longtime friend Jeff Taylor, and crew chief Willie Evans for their role in his continued success. In addition to the Georgia Peanut Commission, the Adkinson team relies on support from Jeff Taylor Performance, Comp Cams, Mickey Thompson Tires, JEGS,