Bogacki Wins Gateway Super Comp Title
Bogacki Wins Gateway Super Comp Title in K&N Filters Dragster, Extends Unbeaten Streak to 27 Rounds
Madison, IL: Luke Bogacki has won two NHRA national championships, five NHRA divisional championships, eleven NHRA national events, and countless big dollar bracket races in his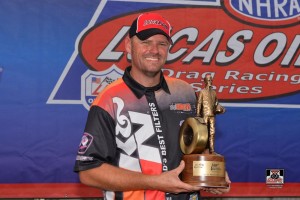 illustrious driving career. Yet he's never been on a run like this. Bogacki came into the NHRA Lucas Oil Nationals in Brainerd, MN over a month ago in the midst of a subpar Super Comp season at the wheel of his K&N Filters backed Super Comp dragster. He won that event, his first Super Comp victory in more than two seasons. The following weekend, he backed it up with a win at the NHRA Division 3 Lucas Oil Series Event in Bowling Green, KY.
Then things started getting out of hand.
The very next weekend, he drove the same machine to victory at the prestigious Chevrolet Performance U.S. Nationals in Indianapolis, marking Luke's first Indy title. After two weeks off, Bogacki extended his unbeaten streak in the ultra-competitive Super Comp category to an incredible 27 rounds when he won the AAA Insurance Midwest Nationals at Gateway Motorsports Park near St. Louis.
"I don't have any explanation for this run," said the typically humble Bogacki. "I don't know if this is unprecedented or not; to be honest it's hard to imagine this streak being duplicated in the future. Not in this class. Just hearing it sounds ridiculous. 27 straight round wins? I would have told you that couldn't happen for anyone. And now it's happened to me of all people."
Over the weekend, Bogacki certainly did his part. In his non-bye-run rounds, he posted reaction times varying from .009 to .018, and worked the finish line to perfection. He posted elapsed times between 8.89 and 8.91 in four of the seven competition rounds, and boasted win margins of just .001-of-a-second in round four and .003-of-a-second in a final round conquest over Jeremy Demers. En route to the final, Bogacki advanced past Chris Runnels, Phil Smida, Paul Kimble and James Gerakaris before earning a quarterfinal bye run. He then dispatched Nick Folk in the semi-finals.
"My car has just been fantastic," he said, deflecting the praise to his American Race Cars built, K&N Filters-backed machine. "I have so much confidence in it right now, and so much confidence in myself as well. When basketball players get hot they talk about how the basket feels like it's as big as the ocean; they just can't miss. That's how I feel when I stage right now. But it's not as if I've been perfect. I've been good, and my car has been great; we've made a lot of really solid runs. But that doesn't account for 27-straight. I've had a lot of good fortune. A lot of opponents have made uncharacteristically poor runs in the other lane, and our timing has been incredible: I've made good runs at the right times and I've gotten away with some mistakes as well."
What the modest Bogacki won't tell you is that he's been a machine on the starting line. In Brainerd, he was .025 on the tree in round three. In the 24 rounds since, his worst reaction time has been .018. Over the course of the streak, he's averaged a .011 bulb, and posted .00 reaction times in nearly half of his head-to-head matchups.
While Bogacki's incredible run has come at the tail end of his points-earning season, it still won't be enough to propel him to a third national title in as many years. A string of poor divisional performances early in the season will keep Bogacki from threatening current leader Kevin Brannon, though he still figures to finish the season ranked in the top-5.
Courtesy Luke Bogacki Motorsports news