Senft, Nichols Jr. & Mayers Claim Mid-Atlantic .90 Championships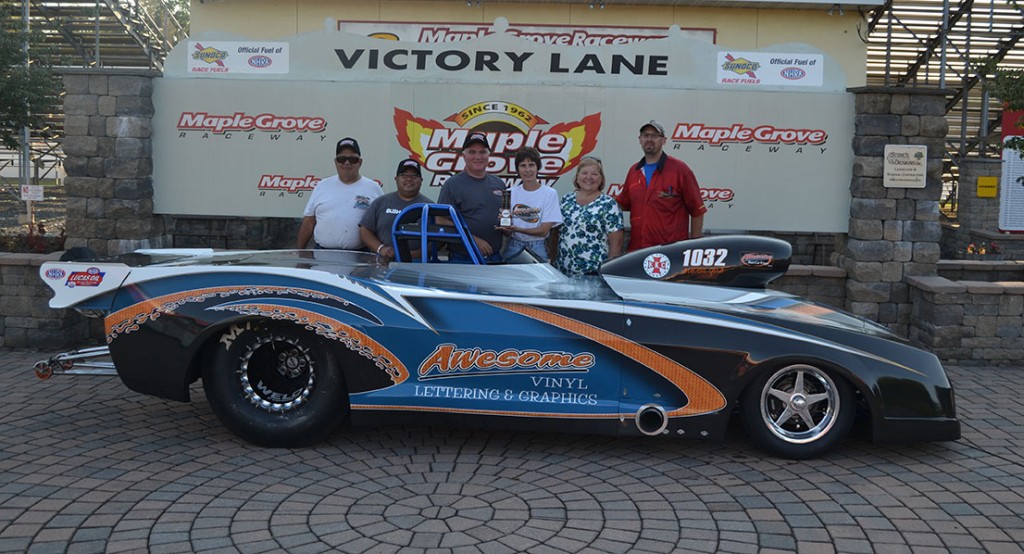 Maple Grove Raceway, Reading, PA 9/19-20: Ash Senft knew he had a tough task in front of him going into the Mid-A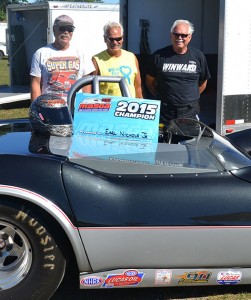 tlantic .90 Association's Season Finale weekend at Maple Grove Raceway. Facing almost a five round deficit over season-long point leader Kevin Scholl, Senft would need all the cards to fall his way by day's end on Sunday to be 2015 MASCA Champion. As Saturday's eliminations began, things started to align themselves early in Race #9 as Senft & Scholl faced off in the 1st round of eliminations with the winner controlling their own destiny. Senft took a close 8.922 to 8.925 victory and rode that early momentum all the way to Saturday's Winner's Circle with a final-round victory over Kevin Robb's A-1 Mulch dragster. The win got Senft past Scholl for the points lead by a mere five markers going into Sunday's Race #10. With the first point leader change of the year after Saturday's Race #9, Scholl knew he needed to go rounds on Sunday and have Senft bow out early for any chance of taking back the points lead and claiming his first MASCA Championship. Another top 5 player in the points derailed Scholl's program as third place Bill Hardifer had his own plan and got around Scholl at the 'stripe in an all-S&W match-up ending any Championship hopes for the Hookdaddy Motorsports team. Senft was able to go deep enough in eliminations Sunday to clinch his first MASCA Championship.
Two Champions were crowned after racing was completed on Saturday: Keith Mayers in MASSA (10.90) and Earl Nichols Jr. in MASGA (9.90). Mayers had a stellar year in his unique Porsche 944 netting a series-high 4 wins along with a runner-up over the 10-race season. He capped it off with a victory Saturday in a re-match of the Atco Race #2 final when Kelli Barbato went red in her '68 Camaro, thereby eliminating former Champ Jimmy Stack from Championship contention. Nichols was also on a season-long mission in the MASGA series with his "Cremator" topless Corvette. With 2 wins and 2 runner-ups during the season, he earned enough points to top rival and 3-time MASGA Champ Iggie Boicesco. This is the 3rd MASGA Championship for Earl, a multiple-business owner from Wilmington, DE. Saturday's Race #9 MASGA final featured a pair of "locals" as Hank Smith and his Ken's Kustom Chassis topless '15 Camaro took the win when Paul Schonberger's flamed Arrow also went red.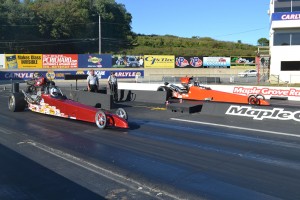 In Sunday's Race #10, Walter Olt claimed the MASCA win over recent Englishtown LODRS S/C winner Danny "Mr. Happy" Bisbano when Bisbano lit the dreaded red bulb. The win was sentimental for Olt as he dedicated the victory to his brother Nick who had to put down his pup Bella over the weekend. In Super Gas, Jake Barbato finally overcame some major earlier-season gremlins by driving his '98 Camaro to the last available MASGA win of the 2015 season by taking out the beautiful Mustang of New York's Frank Volpe. In another classic Chevy vs. Ford battle, Barbato took the 'tree and parlayed the .009 advantage into a double-breakout victory 9.896 to 9.889. Rounding out Race #10 action in Super Street, Dom Burgese out of Williamstown, NJ was able to grab the MASSA victory over first-time finalist Rick Mattioli's multi-purpose ride in a battle of Gen 1 Camaros. The super-tight final saw Burgese grab a slight advantage at the 'tree (.001 to .004) and go on to seal the deal with a 10.894 to 10.892 victory.